On back roads to Uganda
"No! I'm done with this crap! This road is so uneven, and I hate riding on top of a berm so I can't reach the ground!" It was one of those rare occations where Camilla was truly angry.
"Oh, you're doing fine. Just put it in first gear and keep a steady pace." Our intercom was a double-edged sword. On one hand, it was my best opportunity to calm her down, on the other, it was her best opportunity to let her anger out on me.
"No! I'm stopping here! I'm sick of you pulling me out on these shitty roads!"
I timidly tried to interject that I had actually suggested going on the main road, now that we had had a late start. That idea had been rejected due to the dangerous truck-overtakings and dense traffic. Camilla was aware that we had both agreed taking the small Suam border north around Mount Elgon, but right now it was pretty convenient to blame me. I pulled in my clutch and waited.
Two days earlier, we had arrived at our first stop after Nairobi. A cozy campground at Lake Naivasha with cold Guiness and a view to hippos. We spent a day hiking through Hell's Gate, the only national park in Kenya you're allowed to enter on foot. We did a 31 km circle through the park to the great amazement of the lone park ranger we met. The first half was fine, with pretty rocks and a good amount of wildlife: zebras, warthogs, impalas, and gazelles. The last half was rather disappointing. It went past a set of very industrial geothermal power plants. Incredible what you can get away with in national parks in Africa. We certainly felt that our guide book was way too generous in it's description of the park, but we did get some much needed excercise.
From there, we headed north past Lake Bogoria and across two mountain ranges via Kabernet, on recommendation from Chris at Jungle Junction in Nairobi. "That place in motorcycle-heaven!" It was. Most of the road was paved, a symphony of fantastic curves matched by excellent views. The final 40 km were unpaved and went through a mining area. I had good fun on the rough roads, Camilla accepted them grudgingly, nervous about punctures. For me, it was the best riding of the trip so far. We stayed overnight at Naiberi River Camp, a place none other than Bill Gates also stayed in 2009. If it was good enough for him, it was good enough for us.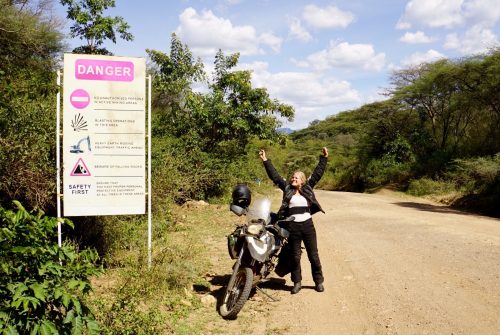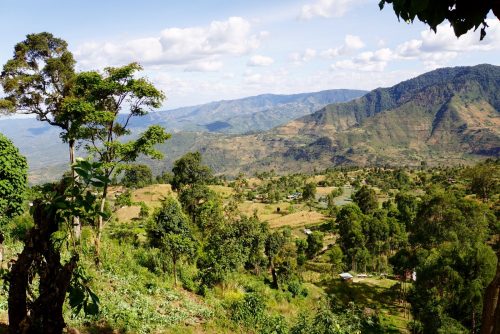 The next morning, we got up early and packed, so we could reach Uganda. The day started well, the oatmeal was good, and the sun was shining. Camilla was about to pay, so we could get going.
In total, our bikes have four wheels. We put new tires on all four before we left for the trip. We managed to change them on our own on three of the wheels: Both of mine, and Camilla's front wheel. Her rear wheel is the smallest of them all, which makes the tire extra stiff. After a frustrating afternoon, we had to seek help at a local tire shop to get the tire on. This morning at Naiberi River Camp, I discovered a puncture. On the worst possible wheel: Camilla's rear. No chance of an early departure towards Uganda.
We had no choice but to take her wheel and tire off. Getting the tire off was fairly easy. Finding the tiny, tiny hole in the tube was harder, but exactly the kind of work that's Camilla's specialty. Found and patched. We saved the old tube for any future repairs, and mounted a new tube we had brought. The culprit was something as simple as a metal clips left on the campground parking lot.
Of course, mounting the tire was impossible for us. Fortunately, a very friendly guard on the site, Alex, were more than happy to help. We tried again, but with no luck. He did, however, know a place nearby, which could help. I jumped on my bike, with Alex on the rear seat, holding the broken wheel. We left after I had been thoroughly instructed to yell loudly at any African who might be about to ruin the tire or rim. I'm not good at yelling loudly, which concerned Camilla.
No need for worry, though. The tiny local fuel station had two tire experts at work, even though it was Sunday. It took them less than 30 seconds to remount the tire. It cost us half a dollar, and I learned a valuable trick for next time we're unlucky.
Everything was back in order, but the puncture had cost us four hours. It was almost noon. We had two options. Chris had recommended a border crossing north of Mount Elgon. We knew it was on small roads ("stay away if it's raining"), but not how bad they were. The other option was to take the main crossing just south of the mountain. We were pretty sure the roads would be fine there, but then we'd have to contend with the local truck drivers, who drive as if they are invincible, with no regard for motorcycles. We wanted to go to Sipi Falls, and the distance either way would be the same. Had we managed to leave early, we would definitely have taken the small roads. Was that feasible, now that we were 4 hours late? We decided to take the bet.
And thus, I found myself on a red dirt road in northern Kenya, at the sharp end of Camilla's wrath. 30 km before the border, the tarmac disappeared. It was dry, but clearly tractors and trucks had driven there in the rain. The road was utterly destroyed, with 40 cm deep, uneven crevices. To be honest, not a very fun place to ride. For Camilla, it was entirely too much. The intercom was silent for a minute. "Okay, I'm coming. I'm sorry, but you're the only one I have to let my anger out on." All right.
It was as if something fell into place in Camilla's head. We had no choice but to keep going. The terrain was difficult, also for me, but nothing she couldn't handle with a little patience. The limit was solely in her head. As soon as she had gotten past that, it went great. When you are riding on a berm with steep drops on both sides, it's all too easy to focus on all the places you are not supposed to go. And if you do that, you end up exactly there. Instead, you have to look ahead, pick a line, and stick with it. At 4 pm, we had passed the tiny border post. 85 km to go. Our average speed was 25 kph. The sun would set in 2 hours. It did not look good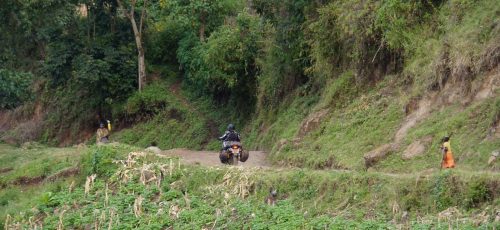 We struggled on. The road improved marginally, and I really enjoyed the first kilometers in Uganda. Camilla fought bravely – though not entirely without complaining – and got through even quite difficult sections without issue. I was proud of her – she is much better than she thinks. Not since my time offroading in the Californian desert, had I seen worse tracks. As Camilla told me later, "good thing we didn't practice this beforehand, or I would have refused to come on this trip."
But it did not help. The sun kept marching towards the horizon, and at 5.30, we had to accept we would not make it. In a tiny village, we found a small hospital, and asked if we could camp there. They were very hospitable, despite their poor English, and told us to feel like home. We were very far away from home, but we had a good night in the tent.
The following morning we conquered the final stretch to Sipi Falls, according to our guide book, the most beautiful waterfall in Uganda. We checked into the local campsite. I Sipi Falls, you have two things to do: Hike the falls (there are three), and do a coffee-tour. Our host, Fred, could help with both, and became the guide of the day. On our way to the top fall – passing through people's fields and backyards – it was time for coffee. We stopped at a local family with a small coffee plantation inbetween the banana palms, and Fred took us through the entire process, from coffee berry to final brew. We cleaned the dried beans, roasted them, grinded them, and enjoyed a great cup of coffee in the clay courtyard under a roof of banana leaves. A great experience.
Fred was a good guide, not just navigating the twisty paths of the mountain, but also navigating the culture of eastern Uganda. We asked how to say coffee in the local language, and he laughed. Not only was it very complicated, because they had many words for it, it would also be entirely useless to learn, because the spoke a diffrent language just 7 km away. Luganda, the official language, is only spoken around Kampala, the capital, according to Fred.
Fred also explained that it is common to pay for a bride with cattle or goats or money. After all, the parents have to recoup the school money. But opposite from the Maasai-tribe, which we had visited in Kenya and has a fixed price for a bride, the price here is variable. Maybe according to quality? It is also not necessary to pay straight away. Rich families do, but poorer families are given credit and can pay later. After for example three kids or five years. That gives the new family a chance to save up for the dowry.
From the coffee farm, the hike continued to the upper fall, past the middle fall, to the bottom, where we traversed a set of ladders and steep mud pathways to get down. Not a trip for the faint-hearted. Both Camilla and Fred slipped on the way down. In late afternoon, we made it home, drenched in sweat. We had expressed interest in tasting some local food, so Fred finished the day whipping up a meal of matoke (boiled plaintains), peanut sauce and kale. Fred thought it was strange that tourists cared to eat that kind of everyday food, but it tasted just fine. Quite similar to mashed potatoes.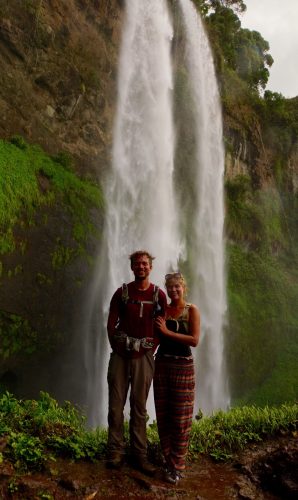 ● ● ●