Awful Ethiopia
[Due to a mix of laziness and poor internet, I'm posting this way too late. We have actually been in Kenya for more than a week now, and are preparing our next post. But better late than never.]
"Now it broke! It's not going anymore! Something just broke!"
It had been a long day already. We had encountered the worst road we had seen this far. 70 km in gravel and mud with so many potholes it seemed the road had been subjected to a World War I style artillery barrage. The average speed had been around 30 kph, but even then, we were still by far the fastest vehicles on the road. We have overtaken innumerable trucks and local Toyota Land Cruisers. Camilla's panicked voice was the last thing I needed to hear in the intercom, after we had finally reached proper tarmac.
"Easy now. Did you hit the tuk-tuk?" Camilla had been about to overtake one of the thousands of tuk-tuks which have made it from Asia to Africa recently.
"No! Something broke! I think my chain snapped."
I had stopped a couple hundred meters ahead, and was now suddenly annoyed at the engineer, who had decided that on this particular spot, the brand new road needed a raised median to block u-turns. I rode further ahead, found a place to turn around, and hurried back. The road was not very busy, but we had recently overtaken af few trucks and a bus.
When I got back, the bus had caught up to Camilla, but had fortunately stopped before hitting her. Because of the median, it could not pass her. Helped by a group of overeager Ethiopians, Camilla had been able to move her bike a little, but now it was stuck. I realized that the rough pushing by the locals had lodged the chain tightly between the rear sprocket and the swing arm. The wheel was irreversibly stuck. The bus honked impatiently, but this bike was not about to go anywhere.
We had arrived to Ethiopia from Sudan a handful of days earlier. The nature had abruptly changed from flat steppe to forest-clad mountains. The temperature had fallen comfortably. Our first stop in the country was the northern main city, Gondar. We enjoyed the nature on our way there, though our speed was hapered significantly by hundreds of cattle herds on the road. A recurring theme during our time in Ethiopia. In Egypt, everybody seemed to need to be somewhere else. In Ethiopia, everybody and their entire farm apparently needed to be somewhere else.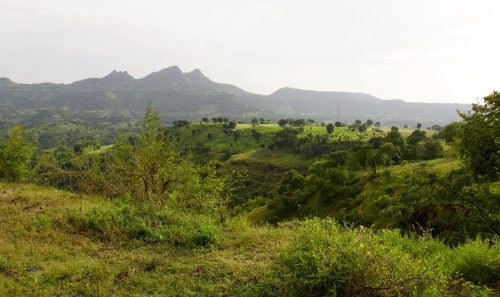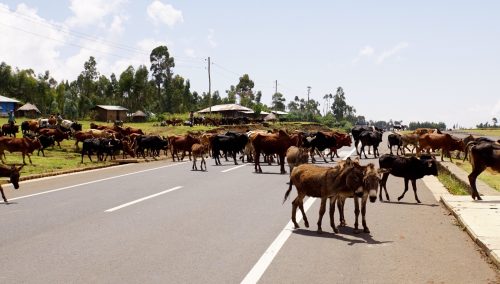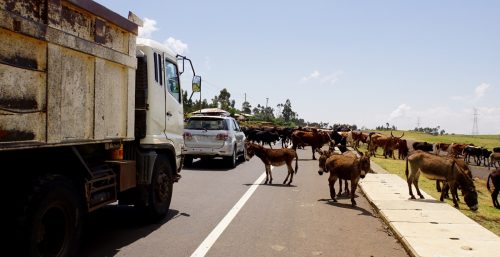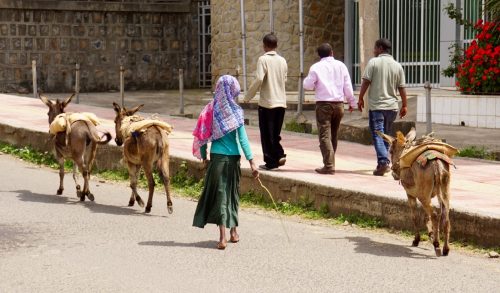 In Gondar, Camilla's good friend Anders sent ud a link from Denmark, telling us that a state of emergency had been declared in Ethiopia a week earlier. Violent protests had erupted among two of the largest tribes in the country, who are not allowed in the government. Aha. That explaned all the soldiers in the streets. We did not, however, feel threatened by any fighting, only very aggressive street hustlers, trying to exchange our money or selling us hikes in the mountains. No thanks.
We spent a day chilling in Gondar. We saw an old church and the 6 castles of the city, built by emperor Fasiladas and his successors from the mid-1600s onwards. They were very similar to European castles, and very interesting for a castle-nerd like me. We also tasted the local food, injera, a kind of sour pancake eaten with all sorts of stuffing. We did not like it.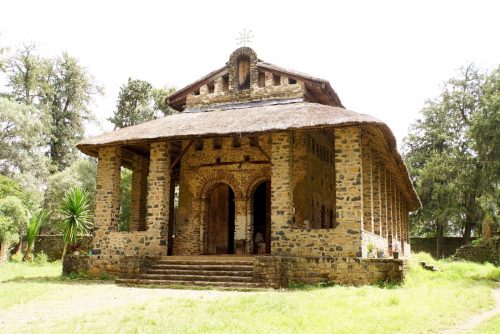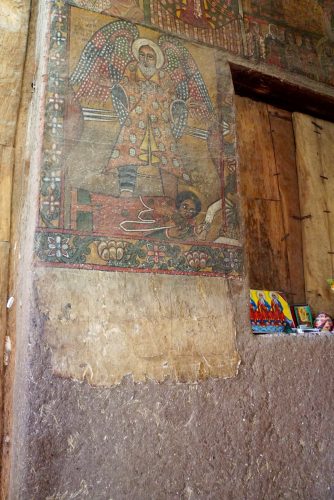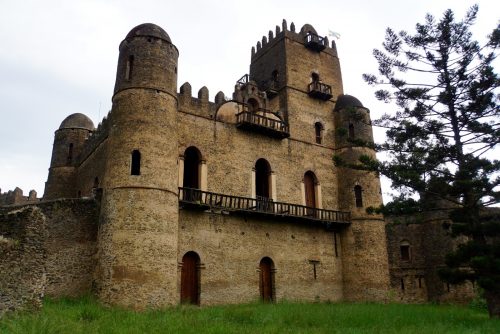 Enroute south, out of Gondar, we passed several truckloads of soldiers going in to Gondar. We both agreed that it was a good thing we were going the other way. Two days later, after having crossed the Nile again in sort of a green Grand Canyon, we arrived in Addis Ababa.
We were staying with Brauck, an American. He worked for the US government, overseeing the construction of a number of hospitals. A challenge, it sounded like. He lived in an apartment the size of a small palace in Bole, one of the nicer neighborhoods. It was fun to stay with him for two nights and get a taste of expat life. Western people stationed in places like Addis almost live in their own parallel society, and we were introduced to US Marines guarding the embassy, a couple of swanky bars, and a couple of his local friends, collage educated from London. They brought Camilla for some traditional dance on our second night, while Brauck and I had to stay home in the palace with bad stomach. But it was certainly not the worst place to suffer from that.
Given the political situation, we had decided to go more or less directly to Kenya. It would take us three days to get there. Going south, we passed through some of the problematic tribal areas. We never felt threatened, but not welcome either. Most people waved at us in a friendly way, but many other threw rocks, sticks, or water at out. Nobody hit us, though. We passed about a dozen burnt out trucks. A couple of them were still smoking a little, while kids played in others. In several towns, the shops had been burnt down, and glass was on the roads. But there were usually a few soldiers present, and everything seemed calm, even if the mood was a bit tense.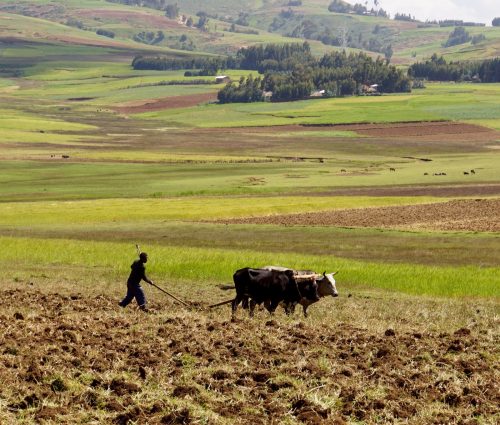 As we moved south, the landscape changed from forest to dense jungle. The banana palms were almost at numerous as the holes in the road, and there were many houses along the road. This was where Camillas bike decided not to go any further. A crowd of locals lifted the rear end and Camilla guided the bike to a halt on the median. 70 onlookers immediately sieged upon us. The Ethiopians are very intrusive. The Egyptians would often stop and look aat us from across the street, but the Ethiopians are very in-your-face. If they did not outright touch our bikes, they were no more than a foot away. I fought my way to my bag and dug out the tools. I did not like the idea of rolling out all of our tools in the middle of the crowd, but I had no choice.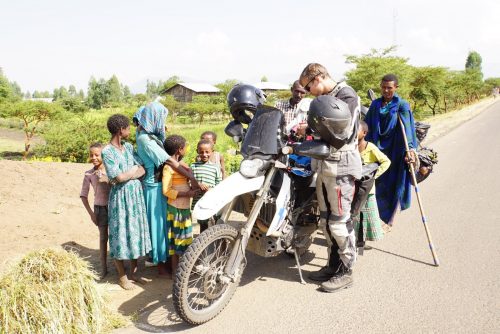 While Camilla tried to keep an eye on our bags, I dove down behind her bike. The chain was certainly stuck, but still intact. It had just jumped off the sprocket. And we had just checked chain tension the day before. The wheel had to come off. Every time I grabbed a tool, 10 hands shot forward to "help." In the confined space behind the bike, I had no idea of where they came from. Together with the sole local who was actually helpful, I got the wheel off. The sprocket had survived, though its bracket had gotten some deep scratches. They chain had one link which was a bit off, but was otherwise fine. I decided that we could continue without getting any spares out.
Now I had multiple loose parts in play: The axle, a washer, a nut, and two wrenches. Not normally a problem, except they were in a lot of other people's hands. Fortunately, I had held onto the washer and nut. My only real helper had the axle. Getting an axle into a rear wheel can be a bit delicate. The brake rotor needs to fit into the caliper, the chain must be on the sprocket, and the axle must line up with the holes. The solution my helper chose was to bang the axle with a hammer.
I yelled out and grabbed the hammer from his hand. Everybody had an opinion about why the axle didn't just slide in. None of them had ever worked on a BMW, nor even seen one. My patience had run out. I laid down on the ground and pushed some locals away. I had had enough of asking nicely. I got the axle in line and tightened the necessary nuts and bolts. I got up and made it clear to Camilla, that I would prefer it if we just got out of here. She had been completely calm during the entire repair, but agreed.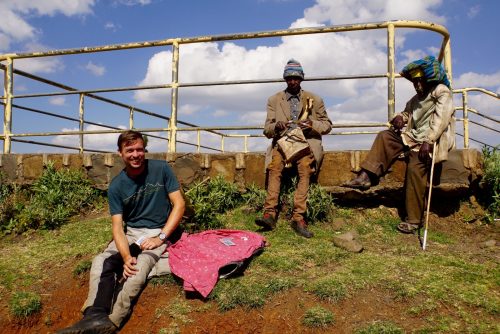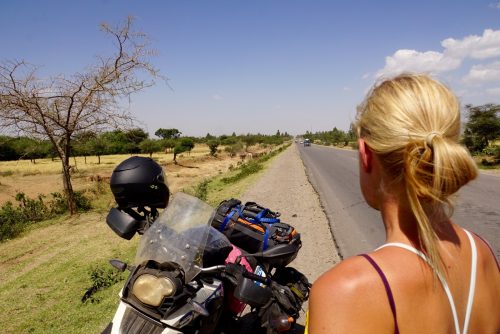 As we were leaving, everybody asked for money for helping. We gave a little to the sole guy who actually helped and left. After a careful start, we made it to Mega, a town 100 km from the border, where we spent the night.
We had planned to cook, but realised that somebody in the crowd had stolen our fuel bottle and fuel pump for the stove. Ugh. Not only was it expensive and useless to him, it was also something we depended on for living. When you travel on motorcycles, you don't carry very much you can do without. Even stuff you could easily buy in REI becomes irreplaceable. My mood was low, and our respect for Ethiopians was even lower.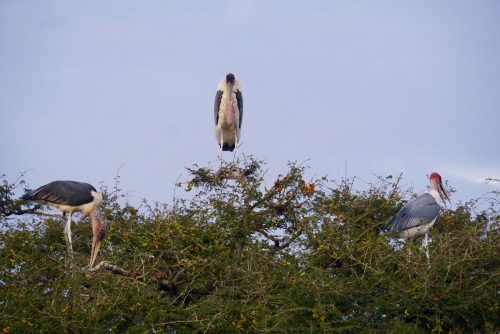 You have to wonder. In Sudan we saw how people can be extremely nice and honest, even under very tough circumstances. Ethiopia has all the advantages: Friendly climate, good soil, great economic progress the last decade. And still, apparently foreigners are to be yelled at or seen as treasure chests to exploit. Our first impression of the country had been confirmed. Something as simpel as a lunch break was impossible to have without people stepping on your toes. It is sad that such a beautiful country are ruined by its people. Apparently we are not alone in thinking that. The dutch couple we met between Egypt and Sudan said that they loved the Sudanese, but found the country rather uninspiring. Ethiopia? "Amazing nature, but we don't like the people there."
Fortunately, the hotel was good and the staff helpful. We boiled water on tinders from their primitive kitchen, refueled from soda bottles, and made it to the border as the terrain changed to desert. Here, the chinese just built a great new road, which we took to Marsabit. The border crossing was easy and the ambience in Kenya felt much better from the get go. Now we're staying on a campsite owned by a friendly South African. We have bought 7 beers. It's not so bad being in Africa.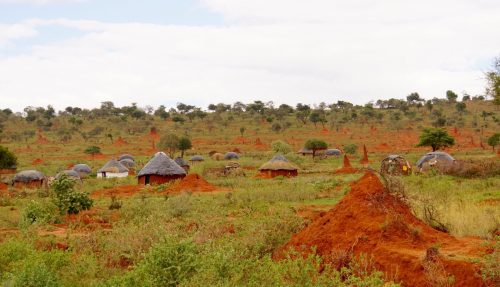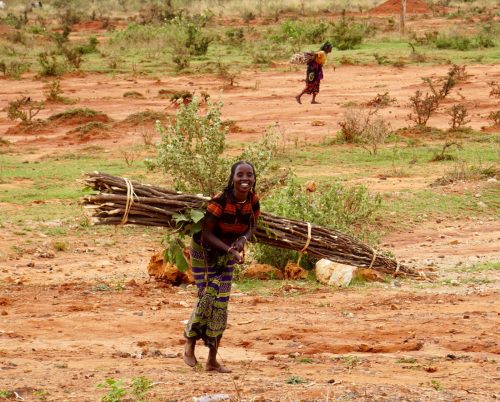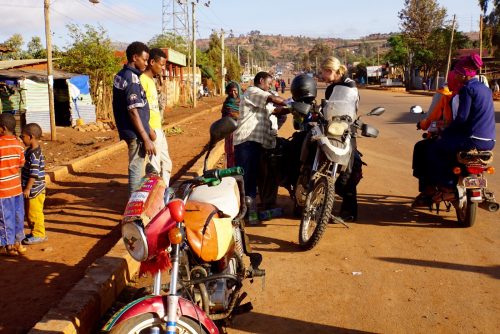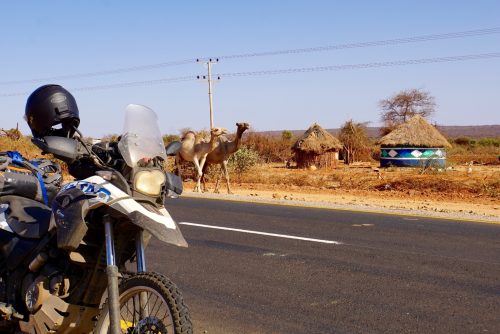 ● ● ●