Desert medley
"Excuse me, have you seen the lost horse?"
"Sorry?" My mind was not quite prepared for more than the customary "hi, how's it going" greeting from other hikers on the trail.
"Have you seen the lost horse," the 5-year old kid with round, blue-framed glasses repeated, somewhat impatient.
"Oh, yeah, The Lost Horse Mine is back up there, maybe half an hour from here," I replied, thinking that he was asking for the time to the end of the trail, a mine which was found because the miner-to-be went looking for his lost horse, thus the name.
"No, he's looking for the actual horse," his mom interjected, in an effort to help obviously clueless me out.
"Oh, well, that horse was lost a hundred years ago, so it's probably dead now."
The boy planted his open hand in the middle of his face and let it slide down slowly as if to convey a combination of "oh no, have I been dragged all the way out here to look for a dead horse" and "well, this guy is clearly a complete imbecile," while he whispered a quiet "but maybe it's still alive."
We carried on walking, and it was not until the others pointed it out, that I realized I had coldly and matter-of-factly introduced the poor boy to the concept of death. Why didn't I also just say that Santa Claus didn't exist, while I was at it? My unintentionally dead-pan declaration of a deceased steed has since been contracted, and become somewhat of a saying in our little group: now "the horse is dead" means "let's just cut to the chase" or "end of discussion."
We were hiking in Joshua Tree, which I had returned to since my sister, Katrine, was visiting. We had invited a bunch of my friends, and in total we were 8 people divided over two cars on a little weekend road-trip. But let's back up a bit. About two weeks prior, my cousin Mads had also visited me and accompanied me on a small trip. While him and I did not go to Joshua Tree, we visited some of the same things, so this post is a combination of these two trips.
In both cases we started by heading east  towards Anza-Borrego Desert State Park, the desert closest to San Diego and one of the darkest places in the US, making it perfect for stargazing – something, however, we did not intend to make use of, as we chose not to stay the night there. On the way to Anza-Borrego, tradition says that you must stop in the small western hamlet of Julian to have apple pie. As I'm not one to take tradition lightly, we did exactly that. Julian Pie Company is the place you want to go, and it turned out to be very, very good. The first time I had the boysenberry-apple pie with whipped cream, and the second time the mountain berry pie with vanilla ice cream. Delicious. On to Anza-Borrego with full stomachs. Mads and I did a fairly forgettable hike to the Wind Caves, in a failed attempt to avoid the crowds. We hiked along an off-road vehicle trail and was often passed by cars and off-roading contraptions of various kinds.
When I was there with Katrine and Julian – we didn't meet up with the rest of our party until Joshua Tree – we instead did the most popular hike, the Borrego Palm Canyon Trail. Since we were there on a Friday, the trail was largely empty and absolutely stunning. We hiked towards the oasis at the end of the trail listening to the burble of the little stream accompanied by distant thunder. We had lunch at the oasis before we returned to the car with perfect timing, as the rain started just minutes before we entered the car.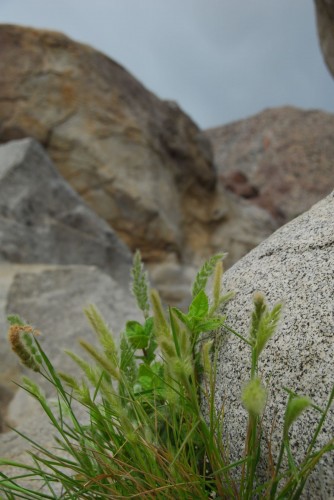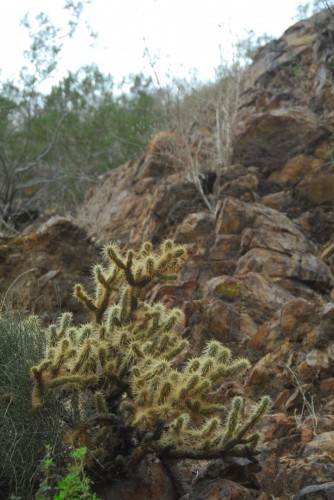 The route continued east through Imperial Valley, which in an enormous irrigated area just south of Salton Sea which produces all sorts of fruits and vegetables. It's an interesting look into the "other side" of California, far removed from the glitter and glamor of Los Angeles and San Francisco, mostly populated by Mexican immigrants.
East of Imperial Valley, just south east of Salton Sea, is Salvation Mountain. Those who have seen the excellent 2007 movie Into The Wild by Sean Penn will be familiar with it. It's basically a hill covered in paint full of messages of love and faith. It has been in the works for more that 30 years, and even though the original creator is now too old to maintain and expand it, it has been taken over by other local hippies, who build on the mountain whenever they're not smoking weed in their mobile homes. It is a truly unique place worth a visit, though it is far away from everything.
Mads and I also visited the Imperial Dunes, an impressive display of dunes that look as taken out of a cartoon. It's a huge playground for people in dune buggies, who will have ample opportunity to get their adrenaline rush there.
We continued up east of Salton Sea and checked out Bombay Beach, after we had cleared the obligatory search for illegal immigrants in our cars. Julian and Katrine caused a minor incident when they eagerly exited the car to find their passport in the trunk. Over here you don't do anything at all without permission from the police officer, so their sudden exit elicited a prompt "stay in the car!" while other officers took position in a tactical L, ready to draw their guns and fire, should we try anything stupid. In contrast, when it was just Mads and I passing through, we were waved on without any scrutinizing.
Bombay Beach is a more or less forgotten trailer park at the coast of Salton Sea. It is as far from a tourist attraction as you can get, which is why it is interesting. We then followed the coast up to Coachella, which is where the paths diverged. Mads and I took a westerly course to Idyllwild, which we'll get back to, while Katrine, Julian and I headed up to Joshua Tree. The following morning we met up with the remaining 5: Gianluca, Wolfgang, Francesca, Melanie, and Selin. Together we spent the day in Joshua Tree National Park, some of us scaled the same rock that my friend Johan dehydrated on a couple years ago – it shall henceforth be called Johan's Mountain – we had no problems this time, though. We did the Lost Horse Mine hike and many of the other must see places I have covered before. After Joshua Tree, we drove to Palm Springs and had a good dinner at Café Lulu, before we carried on to Hemet, where we stayed the night.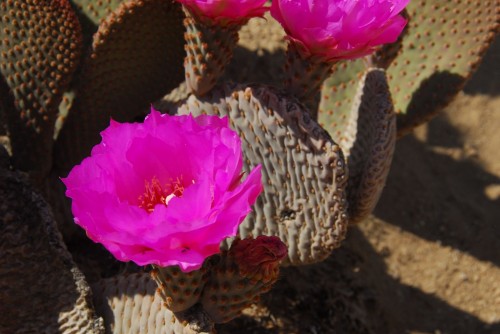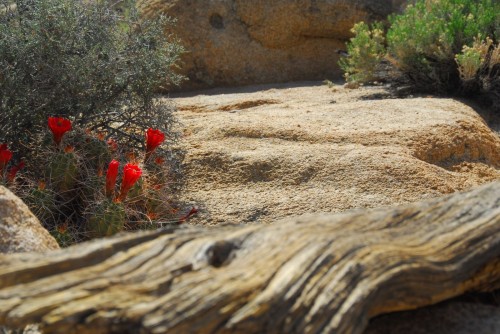 Both trips ended in Idyllwild, a beautiful place that is almost alpine in all its green and granite, and a big departure from the deserts east of the San Jacinto mountain range. I generally refuse to use a GPS for routing, and as Mads' codriver, I guided us there without issues. Not so much on the other trip. We left Hemet, and I had made a mental note of the route, so much against my habit, I did not follow along on my map as we drove. That is, until our road ended and merged onto Interstate 215. My first thought was "hmm, that's odd, I didn't remember that there is a freeway so close to the mountains," quickly followed by "wait, I-215 is certainly not near the mountains," ending in "oh crap, we've driven west instead of east, and I didn't give it a second thought!" Melanie sentenced me to 10 burpees for my 20 mile blunder, I cursed myself for about an hour, but in the end we made it to Idyllwild.
In Idyllwild we – on both trips – did the beautiful Devil's Slide hike. Hiking up into the fresh air was a welcome change of pace from the deserts. The hike is a series of long and not-so-steep switchbacks in between Tahquitz Peak and Suicide Rock. It also serves as a good starting point for scaling Mt. San Jacinto from the west side, something I have in the pipeline for the coming month.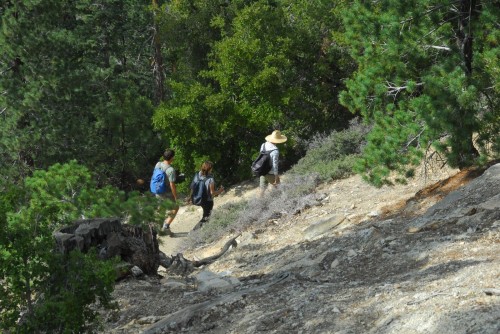 All in all both trips were very good and even though the trip with Katrine was my sixth visit in Joshua Tree, I still like it. It's not my favorite national park (that honor goes to Zion, and in second place probably Sequoia), but it's a very good destination for at weekend trip from San Diego and the road there and back has many interesting sights that are a bit off the beaten tourist track. This time, though I missed the marvelous tuna burger in Crossroads Café, so I'll probably have to go back for that someday.
● ● ●