Through Bosnia, Montenegro and Albania to Greece
[This post is stupidly long. We have had a few days with really poor internet, so the words have accumulated over time – break it up in two, if I'm too longwinded…]
The smell of burnt plastic lingers in out nostrils, going through Bosnia. I did not consciously know that the smell of Iraq was burnt plastic, but I am reminded of my tour of duty to Basrah ten years ago for every trash fire we pass by. The Bosnians obviously share the Iraqi's passion for burning plastic at every opportunity. That is not the only way Bosnia looks like my earlier encounter with a war zone. It has been 20 years since the war, but you often see bullet holes scattered across walls, and trash is lining every single road.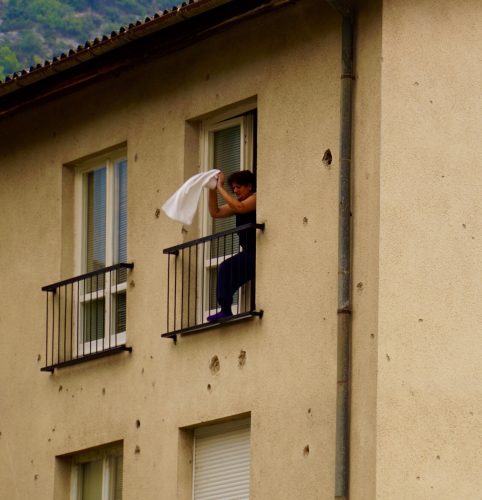 Bullet holes were not an unusual sight in Bosnia.
Both Slovenia and Croatia mostly look like places we know. They use euros, the tourist industry is well established and most houses look nice. The picture changes in Bosnia. Going south, Bosnia is the first country you reach, which is not a part of the European Union, and there seems to be good reasons for that. The economy is obviously at a crawl. Most building sites are abandoned. Wrecked cars pile up on grassy fields everywhere, even if many of the cars on the road are modern.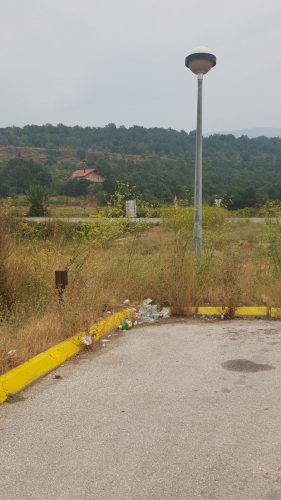 It is so dire, that we spend much of the day's ride discussing how on earth a country can bounce back from something like this. It seems hopeless. The wars in Yugoslavia in the 90s were an extremely complex mess of conflicts, but there is no doubt that Bosnia was hit the hardest (not saying the Croatians got off easy). This is clearly reflected in the state of the countries today. As one of our couchsurfing-hosts said, "Slovenia and Croatia are Europe, Bosnia and Serbia are shitholes." Perhaps too harsh, but not far off.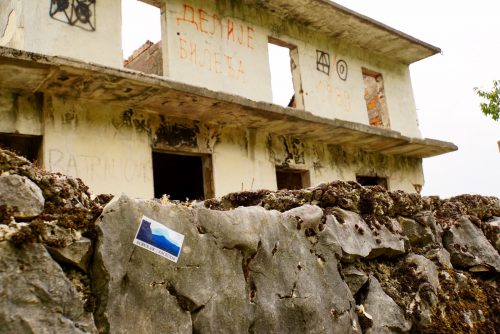 A quick, oversimplified rehash, for those who, like me, never really bothered to understand the conflicts: There was a country named Yugoslavia, a combination of 6 states. The economy crashed in the eighties, which gave rise to increasing nationalism in the six states (not unlike the world right now…). In 1991, Slovenia declares its independence, and gets away with it after only ten days of relatively limited fighting. And then the entire region starts to unravel.
Croatia and Bosnia want to be independent as well, but the Yugoslav government, at this point dominated by Serbs, does not allow it. Many Serbs live in those countries, so Serbia wants to keep them in the union. The wars in Croatia and Bosnia rage from,and about 1991-1995. it quickly becomes clear that the Serbian leader, Slobodan Milosevic, and his gang is aiming at creating a Great-Serbia, which is to encompass Serbia and large parts of Bosnia, as well as parts of Croatia. Croatia is getting their ass kicked in the beginning, since the entire Yugoslav army now serves Serbia. I should mention the battle of Vukovar. It is the first European battle since WW2, in which an entire city is demolished. 36000 Serbian troops attack the Croatian city, which is defended by only 1800 Croatian national guardsmen. They impressively manage to defend the city for 87 days, enduring as many as 12000 artillery shells launched at them per day. After a couple of years of war, Croatia manages to assemble an army and ends the war in 1995 with Operation Storm, an offensive over a front more than 600 kilometers long.
In the meantime, Bosnia, which is situated in between Serbia and Croatia, has suffered many Serbian attacks, massacres, and ethnic cleansing (don't get me started on Srebrenica…), and at times even Croatian advances. In 1995, the Bosnians manage to force the Serbians to negotiate, with the help of Croatia and NATO. A peace is brokered, leading, among other things, to Republika Srpska, an independent area within Bosnia. Republika Srpska is not Serbia, but is mostly inhabited by Serbs. That was confusing to us when we passed a sign saying "Welcome to Republika Srpska," just as we thought we were in Bosnia. But, as it turns out, we were.
Anyway, enough history for now. I'm certain the last three paragraphs have offended everyone who participated in the conflicts, as everybody has their own point of view. But the wars were a mess, and this is at least an attempt of understanding and explaining them.
The very friendly owner of the campground in Buna, just south of Mostar in Bosnia had recommended us to go visit Blagaj. We went there via a string of potholes which were perhaps once a road, without knowing quite what to expect. Close to the literal end of the road, a teenager approached us and asked for money for parking. You never know with these kinds of guys, but he seemed legit, so we gave him his 2 euros. The worst possible southern European tourist trap awaited us around the corner. Turism might be in its infancy in Bosnia in general, but not in Blagaj
We weaved through souvenir stalls and restaurants – most were closed on this Monday in September – and made it to the real attraction. The Tekija, a Muslim monastery at the source of the Buna river. Three times a week, the dervishes (muslim monks) meet here to chant and praise Allah. We saw prayer rooms, burial sites, and were amazed that the complex had survived centuries of wars. The survival was no accident, though, as it has been rebuilt at least 10 times over the last 500 years. Hat's off to their tenacity.
Our next destination was the Bay of Kotor, so we set off towards Montenegro. A couple of showers hit us en route to the border. We had lunch under a tree in the rain just across the Montenegro border. Camilla had bought lunch in a small shop back in Bosnia, but the bread was apparently made with a mix of sand and sawdust, so we gave up halfway through our sandwiches.
We dried, as we went across the plains of Montenegro, and the sun was shining. But as we got closer to Kotor, the skies became darker. Camilla had just mentioned that maybe we should stop and put on rain gear, as we were hit by a thunderstorm of biblical dimensions. We pulled over immediately, as the riding went from very wet to impossible in an instant. I've seen a lot of rain in my life – I am from Denmark after all – but probably nothing as violent as this. I have definitely never been outside in anything like this. We huddled up and tried to shield each other for the half hour it took. We were happy to be wearing helmets, so we at least had one dry spot on our bodies. What we did not know was that this storm was merely a taste of what was to come.
We made our way to Kotor and found our campsite. Another garden, this time three steps from the sea and with 7 caravans, at least 40 years old, surrounding the garden. By far the most primitive campground so far, with disgusting toilets rivaling the worst of Iraq or the jungle of Thailand. We were shown a spot to camp by the very hospitable owner of the campground. We were the only guests. Just a few seconds later she approached us again, "maybe water later, you want stay in caravan?" At no extra charge, we said yes, despite the clear skies. That turned out to be a wise decision.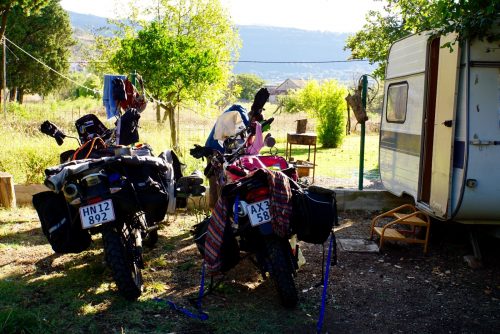 While we cooked dinner a slight drizzle began, so we ate in the caravan. The rain intensified. We ran down to the beach bar and sat under a large awning. And then all hell broke loose. The lightning flashed like Times Square and the rain was not so much pouring, as it was thrown violently to the ground. We sat back, enjoyed the show, and were happy we did not have to return to a soaked tent. We have a good tent, but it would not have had a chance.
The next day was gray, but we still went in to the town of Kotor. A heavily fortified medieval town with tiny streets and a huge fortress above. We took a hike up the mountain behind the city through the castle, and enjoyed a fantastic view. We finished the day at a local bakery.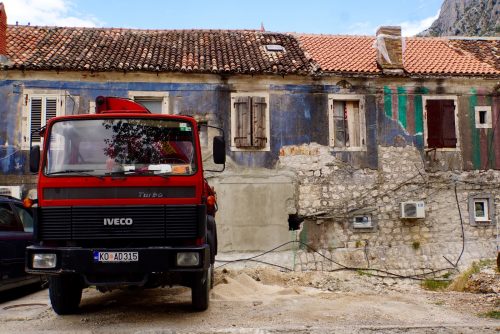 We said goodbye to rainy Montenegro after another night in the caravan. We bet it's a nice place in sunny weather, though. We ventured into Albania. For the first time, we entered what looked like a thrid world country. The inequality seems enormous. Cadillac Escalades regularly overtook carriages pulled by donkeys and polished glass-façades stood next to crumpling concrete stuctures. No matter where we rode, people were standing, apparently just waiting for their life to pass. Much as I expect in parts of Africa. Animals were all over the roads. At some point I warned Camilla about "two oncoming cars and a goat" after a hairpin turn, and that was a completely normal sentence at that point. It was often cows on the road, but also goats, donkeys, sheep, chickens, more or less wild dogs, and turkeys.
The traffic was interesting. Through the Balkans, people have been really curteous drivers, far from what we had expected and feared. In Albania, the traffic was much more Italian. Stop signs are a polite suggestion in the best case, ignored in practice. Speed limits are completely arbitrary, but nobody follows them anyway. You readily overtake in the presence of oncoming traffic, just flash your headlights repeatedly and honk your horn. For at least the female half of the Acrux-crew, this was pretty horrifying, but when you got used to the fact that you just enter the fray, the Albanians were rather nice. At one point, a truck driver practically parked his semi across a busy three-and-a-half-lane highway to block all other traffic, so the two of us could get going.
We had no luck with the couchsurfing in Albania, so we aimed for a campsite in Dürres. It turned out to not exist, so we camped on the beach next to a dilapidated beach bar. No problem, said a bartender at another, functioning bar. And it was no problem. The weather was spectacular and rainy, but we managed to stay mostly dry.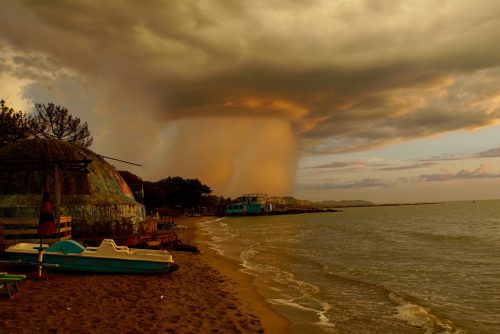 The northern Albania did not seem tourist-friendly at all, but the further south we went, the more developed the area felt. Especially the beaches. Last night, we stayed at a really nice (and full) beach-side campsite. We enjoyed our first showers in 4 days.
Today we re-entered the EU in the form of Greece, where we are staying at Anna's place. She is the nicest person and talks a lot. Tomorrow we will go to Lamia for a single night, and then Athens, where we will try to arrange some shipping to Egypt. So far, the shipping companies are completely unresponsive via e-mail, so we'll probably have to show up in person. We'll see.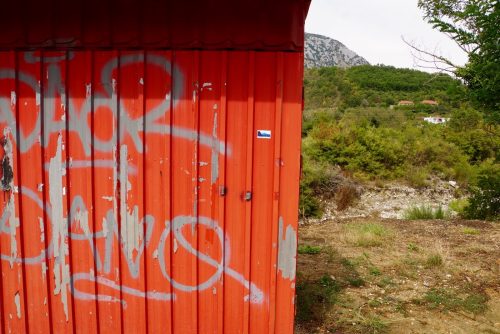 ● ● ●