Back home – and now what?
The story about the end of our Nordkapp-trip has been long under way, but all of a sudden we found ourselves back in the real world, with lots of other things to take care of, and Acrux-blogging was put on the backburner for a while. It also did not help that we were both pretty exhausted and in need of a break, when we once again stepped on Danish soil. Nonetheless, it was a fantastic tip. Here is the rest of the story.
Last time we checked in, we had reached Nordkapp, cold, wet, and quite proud of ourselves. From there, we rode down to Oksfjord and found a camp site for our tent. Now we were headed home. The nature and the weather was beautiful, and we were ready to cover some mileage on our way to warmer pastures. The following morning I quickly wanted to check my chain tension, and to my horror, I discovered that the sprocket on my rear wheel was looking bad. Really bad. If was so worn that about half the teeth had broken off. I had not kept a close look at it, since it had never shown any wear back home. This trip was a different matter. Now what? Our rather inexperienced judgment was that the sprocket would probably last no more than a couple of hundred kilometers. We had more than 2500 to go.
First step was to locate any nearby BMW dealers who might have the part in stock. Tromsø was the closest place, but a detour of a couple hundred klicks. Never mind, we called them, and they did not have a sprocket in stock. They would have to order it from Sweden, and it would take a week to get there. In Bodø, much further south, was another BMW dealership, but they didn't have it either. The mechanic I spoke with was reassuring, though: "Just lubricate it well, and you'll be just fine." Well, that's easy for you to say. Why waste a perfectly good opportunity for excessive worrying? If the teeth disappeared completely, the bike couldn't run and I would be stuck.
We had no other option than to carry on to the nearest larger city, Narvik. I listened intensely after any signs of a slipping chain, but it was just me imagining things each time I thought I heard something. In the middle of the day we made a stop to refuel and as usual I stopped at a grocery store to get lunch. Anders had other plans, though. He had recovred from the previous days' sickness and today sandwiches wouldn't cut it. "I need potatoes and gravy!" I looked around the sparse town and shook my head. Another one of his bizarre and urealistic ideas. "Fine, you take the lead until you find a place."
Another hour passed, but finally we rolled into a parking lot at a seemingly deserted hotel. The restaurant was open though, just with no guests. We quickly decided it had to be good enough for Anders' high requirements – there were no other options after all. The head waiter was not amused to see two scruffy bikers walk in, but due to a lack of better customers, he seated us. Anders had his potatoes and gravy. It was expensive – that's Norway for you – but also very, very good food.
The fancy lunch did not, however, change the fact that I had a bike which was about to give in. We made it to Narvik and slept there, but the local MC-garage had closed shop a few years earlier. We go a hold of the previous owner, who told us about a Harley dealership in Ballangen, just south of Narvik. That guy wanted to help, but only sold bikes with belt drive, so he had nothing like what we needed. "Try to go down to Fauske, I think there is an MC-garage." We steadily worked our way south, but Friday afternoon was approaching and with it the chances of find an open garage was decreasing every minute. On our way to Fauske, we had to wait an hour for a ferry, and I accepted that there was no way we would make it to a mechanic before Monday. And I had to be home in Denmark by Tuesday.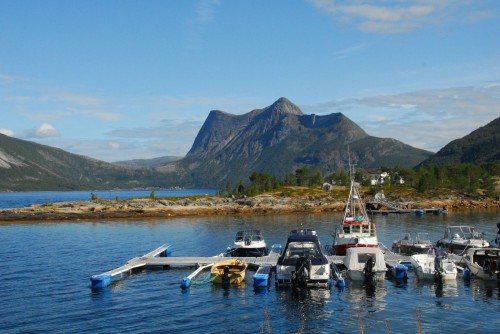 We considered all sorts of options. Could I take a ferry? No, there's only on line, and they do not carry vehicles. Could I put the bike on a train? No, the freight agency would only takes cars. In the end there was only one option: Go until Amelia would not carry me any longer. I had planned to visit Anders in Stavanger and Erik in Kristiansand, but I could save 400 km by going straight to Oslo and sail home from there. That's what I ended up going for.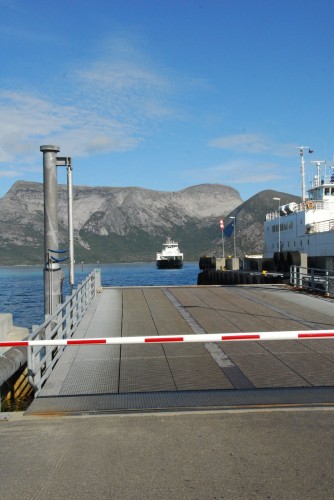 We slept in Mo I Rana, which marked the point where the really beautiful North-Norwegian nature ended. After this, the nature was just nice – not as spectacular – and the days became simply about transport. After Mo I Rana, we rode to our last common camp site, just south of Trondheim.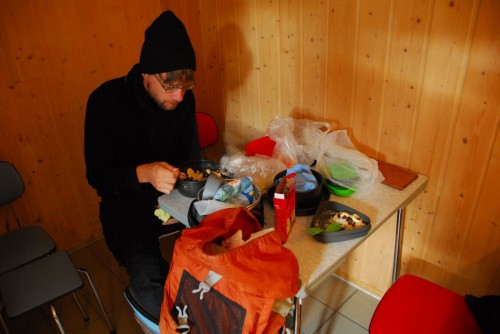 We split up around lunch the next day. I had a ferry to catch, and Anders went east towards Sweden. I got on the night ferry and was home in Aalborg the next morning. Amelia held up all the way. At this point, all the teeth had fallen off, but with careful riding she was still going just fine. I probably could have made it to Stavanger and Kristiansand, too. At least now we learned about the lifetime of such a sprocket. Since then, I have swapped the original aluminum sprocket for a stronger one made of steel – and when we're going to go really far, I'll make sure to bring a spare.
All things considered, we had a great trip. It had ups and down, we were pressed mentally, physically and mechanially, in other words it was exactly the training trip we had planned for. At the same time, though, it was way too ambitious: It was just too long for the time we had. It was perfectly doable, but there was not much time for anything but riding. The last night in the tent, the conversation repeatedly returned to how hard work this actually was.
Fortunaely, we have planned the big trip to be half this speed. The trip to Nordkapp was 10% of the Acrux Expedition distance in only 5% of the time. We learned a lot about living off of a motorcycle and luckily nothing that made us questions the big expedition. We're very much looking forward to going!
These days we're discussing when to leave exactly. We hand in our PhD dissertations in the late summer next year and then we have to wait a bit for the defence. Thus, the earliest we can go is early November 2015. Right now, it looks like we will aim for departure in early January 2016. Then we'll have plenty of time for preparations, and Anders is home for his dad's 50 years birthday in december.
Finally, we also now have a logo! Our good friend Anne Sofie has been kind enough to design a really nice logo for us. We'll make some stickers we can put up around the world. Anne Sofie makes children's books, so have a look at her website and see what she's up to. Big thanks to her!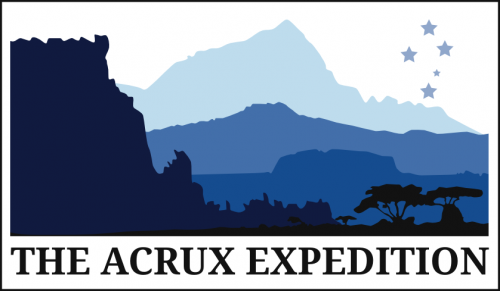 ● ● ●