Bob is still alive — third and final part
A couple of weekends ago I finally finished putting the front of Bob back together. Since then I drove about 1500 km in sweat-breaking heat, strong winds and pouring rain.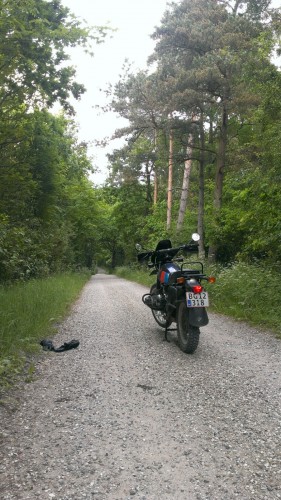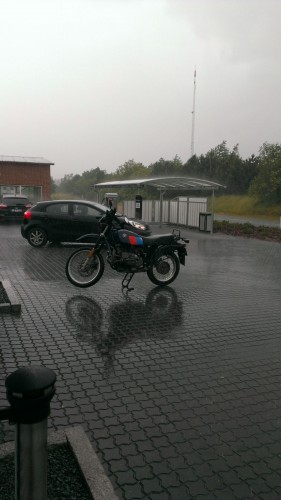 On the road I managed to run out of fuel twice. The motorcycle has a small tap handle where you can block the fuel supply if you want to take off the tank for instance. In another setting you can turn on and off a reserve tank. There's no secondary fuel container — the fuel is just run from about 2 L above empty when the reserve is turned off. With the reserve on the fuel is run from the bottom of the tank so you can actually run it dry.
I was driving a relatively big road a little outside Aarhus when the throttle suddenly didn't have an effect. The engine just seized. My first thought was that the tank couldn't be empty already, but after taking off my helmet and the music out of my ears and knocking lightly on the tank, there was no doubt it was as dry as could be. Nothing was sloshing around down there. This would be the first time I've ever run out of gas, it hasn't even happened to me in a car.
Out there in the side of the road I looked around and realized I was pretty far away from a gas station. My typical, bold response to Bob doubters, that I'll just walk if he breaks down, suddenly didn't seem so viable — I could certainly do it but I'd really like to avoid it. Sometimes I'm lucky. About five minutes later two big, older touring bikes pulled over in front of me, a BMW and a Yamaha with sidecars mounted. Based on their dialect I'm pretty sure they came from the south of Denmark, a couple with a boy and luggage in the sidecars. They'd just been camping and they asked me if I had trouble. A little embarrassed by the situation I told them I'd thought the reserve had been off but that it had actually been on all the time because it's not easy to see when it's what — so basically I was out of fuel. Before I finished explaining the guy smiled and said "no problem I have 5 L right up here" and I was saved. I was lucky enough to have a little cash in my wallet to pay him. Of course he didn't want it but I gave it to him anyway. That's just incredibly helpful!
The second time (I had to test if the reserve had really been on) I had to knock on someone's door in a small village close to Hadsund in Denmark. Once again, very helpful couple who happened to have half a liter left in the container they used to fill their lawn mower with. That gave me 10 km, just enough to get to the closest gas station, which the couple also pointed me to.
At least now I know how to work that reserve tank!
I should also briefly tell about how I finished my wrenching of the front of Bob, that which filled my previous two posts. To get the front fork properly adjusted I called a couple of friends to hear what they'd do. I ended up putting it on a little at a time so to speak, simultaneously adjusting and tightening both sides all the way up.
Here is a bunch of pictures from the last part of the reassembly. Many thanks by the way to the mechanics in my parents' business who were helpful and willing to think with me when I was stuck!
Finally, brake fluid and fork oil. It's more difficult to refill than it sounds. The brake fluid container has to be drained in a way that sucks out any air in the system. Air gives springy, ineffective brakes, and it tears on the brake fluid for chemical reasons I don't know. The forks need to have exactly the same amount of oil in them. Sounds easy but measuring how much is in there requires a long kind of wire which oil will stick to when you pull it up. But I found out that the bottle of fork oil I had should just be split in two..!
The result can be seen on the first pictures. In short, I've now been through everything that has to do with the front! Of course that doesn't mean I'm done, except for now. It's awesome to do some km on it.
● ● ●