Cigars of the Pharaoh
We are walking down the dark, labyrinthine alleyway, as the muezzin sings his call to prayer. The stalls in the walls on both sides are mostly closed, Egypt has a national holiday. Most street lamps are off, but there is just enough light to see where we are going and to avoid stepping on the trash strewn everywhere. Children are playing around us, and everything is uncharacteristically calm in this tiny corner of Cairo.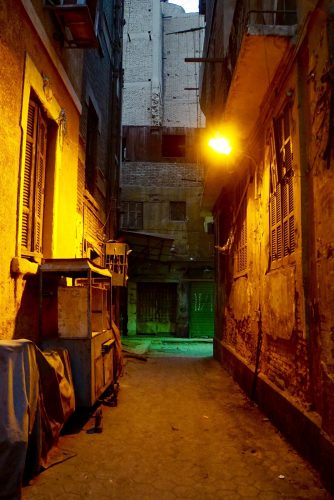 We manage to get ourselves untangled from the tiny streets, but not without a little trouble. Our map is good, but deep in the Khan al-Khalili bazaar, is unable to help. We step out onto Gohar El Qaed, one of the main streets between downtown and Islamic Cairo, where we are staying. A true maelstrom of cars pass by, as on all other streets wide enough for cars. White taxis compete for our attention, as we try to avoid getting killed by the hundreds of Suzuki Super Carry micro buses, which move some of Cairo's 20 million inhabitants to all corners of the earth. It seems everybody has somewhere else to be.
We are quite tired after a day full of new impressions. We walked from our hotel to The Egyptian Museum, which is home to many of the treasures from the pyramids and other temples across Egypt. That is, those treasured that have not been bought or stolen by Europeans and moved to British Museum or Berlin. On our way back, we pass the almost closed bazaar, and a mosque where all the locals are are celebrating the holiday tonight.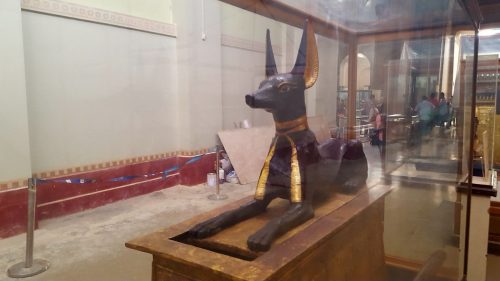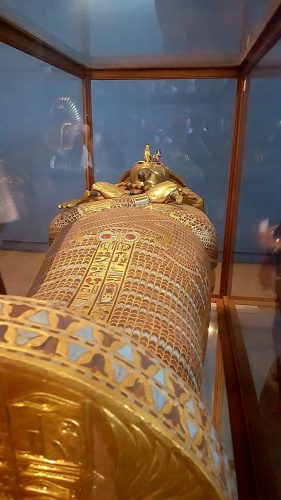 During our time in Cairo, we of course also made it to the pyramids. A poorly run tourist trap like no other. The pyramids themselves were fortunately impressive enough, after we had fought our way through the hordes of scam artists, trying to sell us trips on camel or in horse-drawn carriages, pulled by skeleton horses about to collapse from exhaution and malnourishment. Animal rights are clearly not a thing in Egypt.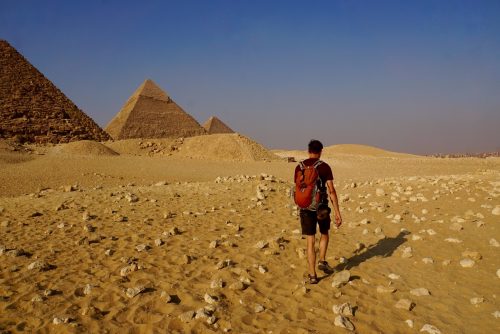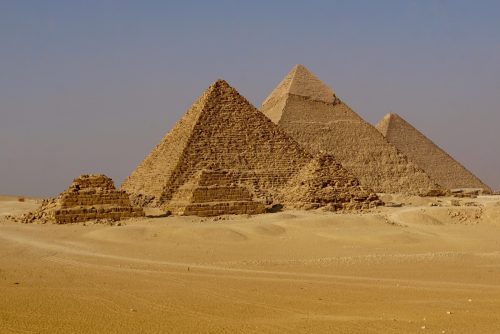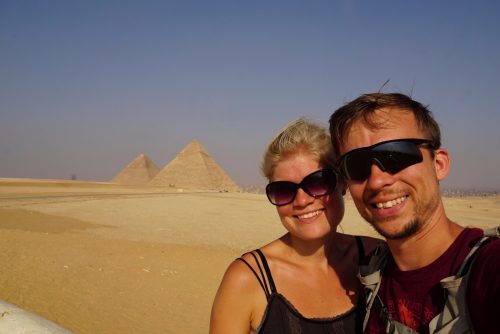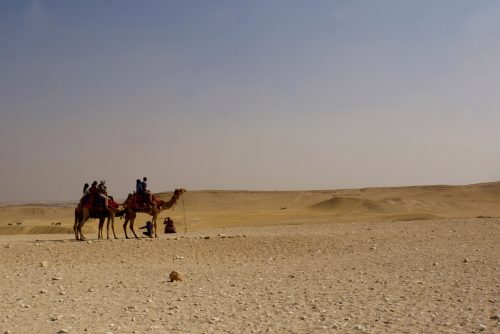 The cigars of the Pharaoh were nowhere to be found, but I discovered that Tintin albums can be bought on the iPad, so I downloaded and re-read that story.
We stayed at a small, very nice, cheap hotel, which quickly made us rethink our preconceptions about Egypt. The staff were frindly and helpful, they did not try to sell us stuff, and it was clean. The good impression of Egypt held up for the first couple of days for me – a bit less for Camilla – but I begin to realize that you can't every really trust anybody. Especially not about money. The lack of trust and commitment is evident all over the cities. Most houses have been completely neglected for at least 5 decades, or just never finished, and trash is everywhere.
Fortunately, we have also met positive exceptions. In the train towards Alexandria, people were almost fighting each other to help us find our seats, and yesterday we met at very nice taxi drive, who took us out for coffee later in the night. We're constantly bombarded with "Welcome to Egypt," as we walk down the street. It's the only English they know. On the other hand, there was a guy spitting at us last night. But fortunately he missed.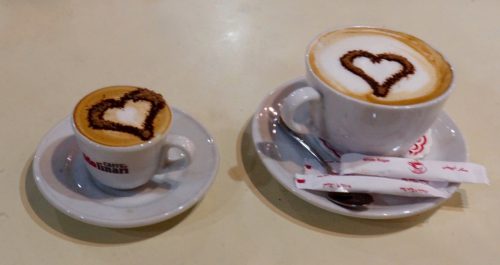 There are no tourists here. At all. We knew that tourism had taken a hit after the 2011 revolution, but not that it had completely stopped. We saw only about 10 tourists at The Egyptian Museum, and at the pyramids – arguably one of the biggest tourist attractions in the world – we counted just 20 foreigners. We were the only western guests at our hotel. We saw absolutely nobody in the streets. This seems a bit unfair. Egypt feels in no way unsafe, Despite the sketchy bargaining tactics, the trash, and the general despair.
The lack of tourists means we get a lot of attention, but you get used to it. Everybody wants a pictures with us, and we decline every time. Except at the pyramids, where Camilla made a business out of it. A pack a teenagers came asking for a picture, and instead of saying no, she charged them one egyptian pound each. She earned enough to pay for our bus home. She was offered a whopping 5 pounds (around 50 cents) for a kiss ("I love you!"), but declined that offer.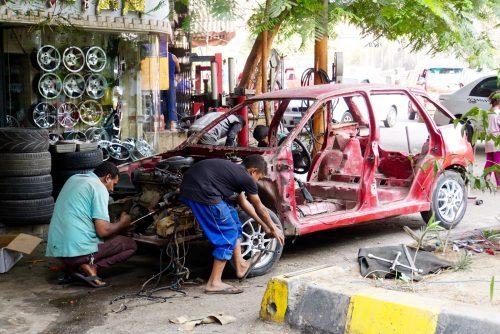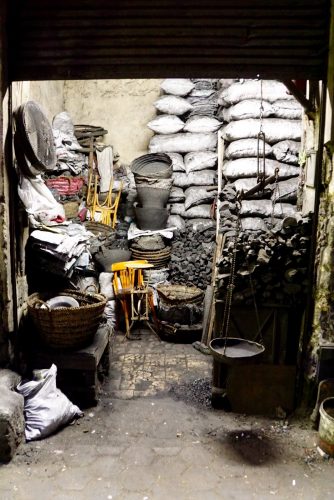 Except for our small walks in Cairo and Alexandria, most of our time has passed with paperwork and waitning for our bikes. If everything goes according to plan, we will finally get them tomorrow. It looks promising right now. But that experience deserves its own blog post. Stay tuned…
● ● ●