Denmark to Lithuania – Part 1/2
"Oooouuuuhhhhh" an older man laughed at us when we stood in underpants at a gas station near Rostock in Germany. The wife in the passenger seat of the car seemed to not really know where to look. We were for the second time on the day of departure from Herning in Denmark stuffing the water repellant layer into our motorcycle pants.
Aside from the rain we were flying across Jutland, Funen, the Storebælt bridge to Zealand and down south. We almost would have reached the ferry to Germany if I had not run out of fuel. I don't have a fuel indicator on my bike except for the reserve tank which can be on and off. And it had been on so when I ran out of fuel I really ran out of fuel.
Andreas got me a liter of fuel from a nearby gas station and after that we went peacefully down to catch the next ferry, two hours later. We now had time to adjust the luggage and a few things on the bikes.
About 50 kilometers from our destination in Mirow, midway from the northern coast to Berlin, we got off the Autobahn and into the country side. The road was good, narrow and curvy, the rain had stopped and the sun was setting. And when the right music came on the iPod it was as if for a moment it all came together in joy of finally being on the way to Nordkapp.
In Mirow we had the pleasure of visiting Michelle and Philip at Philip's parents. As mentioned somewhere else, Andreas knows them from his recently-ended stay in San Diego. We parked in the backyard and were overwhelmed by a meal of Tortilla, fish, Guacamole, cookies and more German Krombacher beers than were good for us I'm sure. Very relaxing. They had a boat house, a house on a nearby lake they normally rent out. Mirow is in the middle of forests and interconnected lakes and I get the impression that it is a place where people escape from the business of the bigger cities. And in the boat house it was almost too comfortable with a big bed, a view over the lake and everything. After a breakfast with salmon, eggs, butter, bread, sausages, we packed the bikes and said goodbye to our hosts.
Gdansk in Poland — pretty far away but entirely within what we thought we be possible to drive that day. We made a couple of short touristy stops in Mirow and Neu Brandenburg before going to the German-Polish border. We expected a line there but the line didn't come until we hit a river you had to pass on a small ferry.
Now one thing seemed to take the other. There was a long line in the supermarket where we bought lunch, Andreas had to adjust his rear suspension (that means taking off the luggage), slooow trafik in the northern cities of Poland. We had also found out that my headlight was on upside down, so when it got late and dark and foggy — a wonderfully mysterious mood by the way — my light pointed, not down at the road, but right into Andreas' mirrors. Great! We reached Slupsk, Andreas went to a burger chain to catch some free wifi and I went into a gas station, both of us in search for a place to camp.
I asked the girl behind the counter in there if she knew of any camp sites and only a few moments later I found the guy behind me saying that we could just put up our tent in his garden. I studied him and his three friends behind him for another few moments and decided they were alright. Off we went, Andreas and me behind a small car driving further and further out of the city.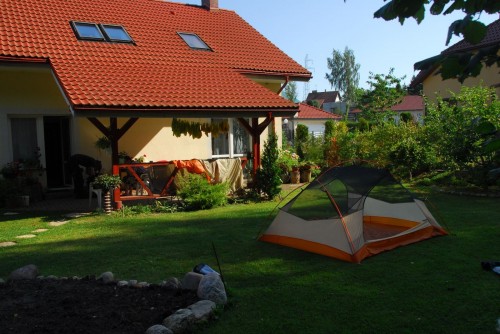 Arkadiusz was alone with his friends in his parents house. We had a nice chat with them over a beer and a glass of home-brewed wine until midnight when we went to bed in our tent — in Slupsk, Poland!
● ● ●