Hamburg
In an attempt to make Camilla (and me, I must admit) ready for a marathon-trip through Africa, we ride as much as we can during the spring holiday-weekends. After a couple of extremely cold trips during the past two months, the warmth of early summer had finally reached Denmark, and we set forth on a camping trip to Hamburg.
Camilla has fond memories of Møgeltønder Camping, so that was our first stop. Tent up, food on the camping stove (the excellent Swedish Trangia) and a nice stroll up and down the main street – Møgeltønder must be one of the most well-preserved "old towns" in Denmark. Next morning we took some winding roads toward Hamburg via Niebüll, Husum and Itzehoe.
This is when the afternoon got a litte long. Initially, our goal was the campsite closest to downtown, Buchholz Camping. We sat in traffic for about an hour on a road going into Hamburg, and when we finally reached the campsite – which was really just a garden – the owner immidiately came out, shaking his head. All full. All right, it's not my first time camping in Hamburg and I knew about a transit campsite right next to the freeway and Ikea. We could live with that.
We threw the bikes back into the frantic traffic (yeah, yeah, I know, Nairobi is going to be so much worse). Before long, Camillas intercom announced that it was out of battery and quitting on us. We have intercom between our helmets, which is great on long trips, but really, really nice in complicated cities. Cities like Hamburg. But we had to manage, and Camilla was good at keeping up, despite being tired and really, really needing a restroom.
Not many yards passed, before we discovered that the road going north – our road – was blocked due to road works. After a quick meeting with my GPS at a parking lot, we found an alternative route. The late-afternoon temperatures were high and especially Camilla had a hard time seeing the fun in all of this.
Still, we made it to the new campsite without further issues, but found that this one was also full. Fortunately, they allowed us to put up our tent in a corner of the playground. All was good. We decided that we were to tired to go downtown that night, but discovered that reason for all the traffic: We had inadvertently arrived on Hamburg on the weekend of their 827th annual harbor anniversary.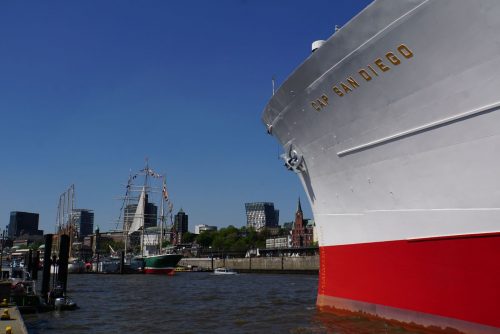 Saturday morning, we left our bikes and went downtown by bus. The harbor was filled with impressive sailing ships, grand navy vessels and hundreds of thousands of birthday guests.
We walked the 453 steps to the top of a church tower and had a good look over the city, before we ventured into the harbor district. We admired ships for hours, and I spent a couple of hours visiting the Cap San Diego, the worlds largest seaworthy museum ship. It's a cargo ship built in 1962 – one of the fastest of its time – which sailed goods between Germany and South America. In 1982 that type of ships was throughly out-competed by container ships (a topic which I happen to be quite interested in, so please ask next time you meet me), so Cap San Diego was sold as scrap. Fortunately, the Senate of Hamburg stepped in and bought the ship, which is now museum and hotel.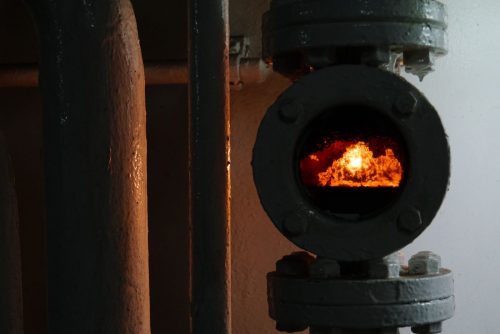 Camilla was not up for geeking out on a cargo ship for hours, so she found some Danish navy ships. I'm sure she broke the heart of many a sailor after explaining that "I have to get back to my boyfriend."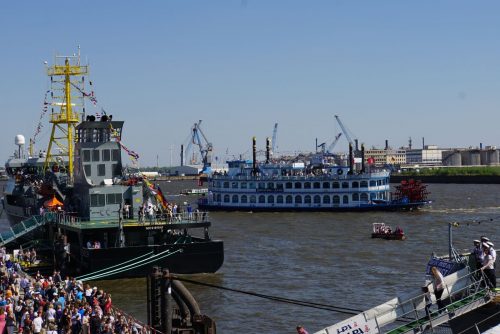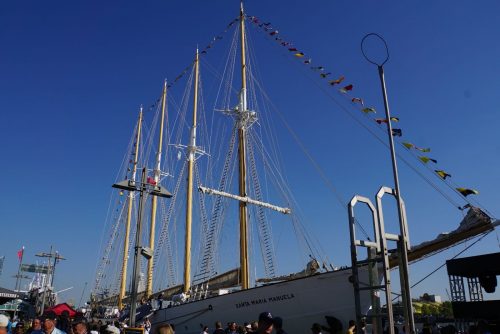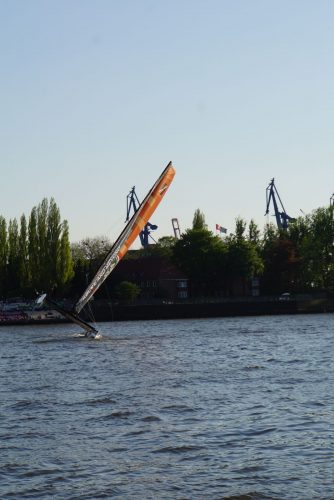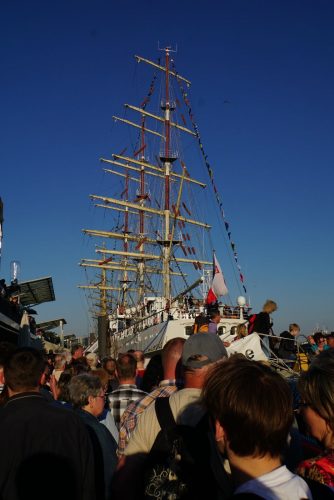 In the late afternoon, we took a sailing tour around the harbor. It was very nice to see it all from the other side and we practiced our German by listening to the guide, who was surprisingly easy to understand. Then we had had enough of sunshine and many new experiences and returned to camp. We proceeded to make no less than a three course dinner on our stove: Sushi as appetizer (okay, we bought that ready-made), pasta with chicken and basil sauce for the main course (well, the chicken was pre-cooked and the sauce just needed to be heated up), and pineapple for dessert (which was bought cut and ready to eat).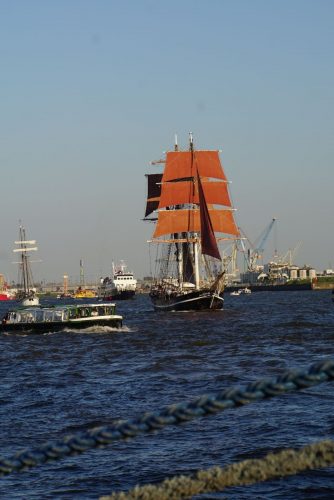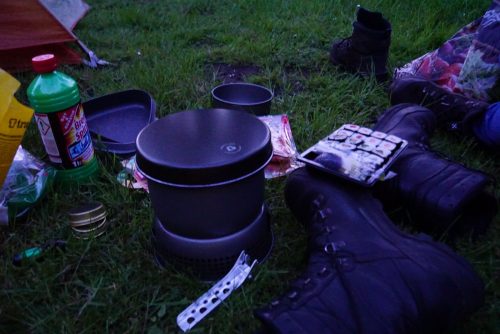 Sunday morning we got up early and rode the 500 km back home to Aalborg without once going on the freeway. It's our principle, we see a lot more that way. All in all a great trip to Hamburg where we managed to hardly see any of the city at all, so I won't be surprised if we return sometime in the future.
● ● ●