Mighty budget: What does it all cost?
Our journey became realistic once we made a budget. Very rough back-of-the-napkin calculations told us that we would be able to save enough money during our PhDs but the hunch was not solidified until the budget came together about a year ago. Our particular trip takes about 35,000 EUR, 50,000 USD or 260.000 DKK, details below (all costs per person). That number should not be unrealistic, however, given that we have never done a trip of this magnitude, some of the figures rely on educated – but usually heavily researched – guesses.
(huge spreadsheet budget condensed here into simpler but more explanatory bullet points)
Motorcycle purchase, restoration and modification – 10,000 EUR (13,600 USD or 75.000 DKK)
Dual-sport bikes with about equal capability on and off roads was all we ever cared about. We had five serious competitors and made detailed restoration and modification sub-budgets for each: Yamaha XT660Z Tenere, BMW F650GS Dakar, BMW R80 G/S, BMW G650 XChallenge and Honda XRV650 Africa Twin (the rd03, '88-91). The Honda would be significantly cheaper than the others, about 7,500 EUR (10,000 USD or 56.000 DKK), while the others all added up to about 10,000 EUR (13,600 USD or 75.000 DKK) with the necessary modifications.
Motorcycle tools – 400 EUR (500 USD or 2.800 DKK)
All the tools we didn't have, generic and specialized, some for the workshop and some for the road.
Motorcycle clothes – 1,500 EUR (2,000 USD or 11.000 DKK)
There's no room for compromise on clothes we're going to wear 90% of our waking hours. They have to be sturdy, durable, comfortable, safe and sensible at all altitudes, in all road and weather conditions. Numerous options exist but we eventually arrived at Held clothes and Schoei helmets (post with details coming up). Not included in this is whatever we wear underneath.
Extensive first aid kit, vaccines and radios – 1,000 EUR (1,400 USD or 7.500 DKK)
According to Danish vaccine prices, the total will be about 800 EUR (1,100 USD or 6.000 DKK) (I asked a nurse over the phone, but there's also this place where you can go add up the numbers). We're undecided about whether we want radio communication, perhaps music, in our helmets or not, but a pair is going to be about 200 USD.
Motorcycle maintenance during trip – 5,000 EUR (6,800 USD or 37.000 DKK)
Gas, oil, and lots of both. For gas, we should be able to drive at least 20 km/L. Assuming that the average gas price will be 10 DKK/L, and that there's about 46,000 km all the way round, we arrive at 3.100 EUR (4,200 USD or 23.000 DKK). The rest of this entry includes four new sets of tires and chain kits for Andreas. My bike has cardan rather than chain transmission, so I consider Andreas' chain kits a little extra, likely needed, slack in my version of the budget.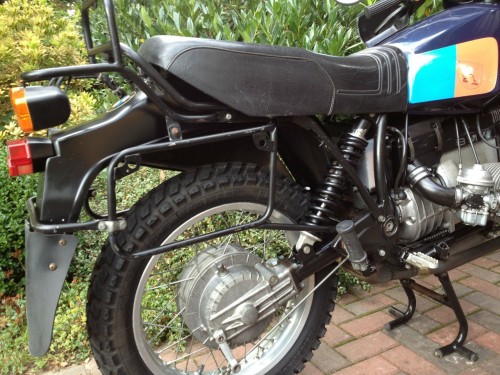 Daily survival during trip – 12,600 EUR (17,000 USD or 94.000 DKK
We work from the assumption that the trip will take 14 months and this entry includes food, paid camping or accommodation, and fun. As our bikes, we need fuel — a regular and consistent flow of food is of utmost importance to avoid grumpiness, lack of focus and starvation. We'll keep oatmeal, energy bars, water, rice and bread handy at all times, eat once or twice a day at whatever shop, joint, cafe we may come by and be sure to stock up whenever possible. Our best food estimate is 500 USD every month per person. Accommodation is a tough one. We're bringing camping gear so that we can sleep anywhere really. In our budget we estimate that we will have to, or want to, pay 20 USD on average at 2/3s of all the places we're going to sleep. When we don't pay, we'll be staying in our tent, in the garden of someone's house or simply in the middle of nowhere; we may even be offered a bed or a couch somewhere, who knows. The final point in this budget entry is fun for which we allocated 200 USD every month. It should cover, for instance, a bit of sightseeing. Interestingly, we'll pass through many different standards and costs of living. I made a crude weighting of various costs of living, according to time spent in supposedly significantly different countries, which suggests only 11,000 USD in total for this budget entry.
Cost of living in area for time we will spend there = ( time in area / trip duration ) * cost of living in area relative to that in Denmark * cost of living in Denmark for entire trip duration

Total cost of living on trip = sum of costs of living in all areas we go through

As an example, suppose the cost of living in Africa is 70% of that in Denmark, filling in the rest gives

Cost of living in Africa = (4.29 months / 12.68 months) * 70% * 93.366 DKK = 22.118 DKK = 2,964 EUR = 4,052 USD
We prefered to leave the higher number though and just consider it a pessimistic estimate.
Major one-time expenses during trip – 4,000 EUR (5,500 USD or 30.000 DKK)
We want to take it slow in East Africa to study the history and people in Kenya, Uganda, Rwanda, Burundi and Tanzania, maybe relax on the island of Zanzibar (I marked the major areas I mention in this section on the map above). Definitely, we want to join a, I guess touristy, hike/climb up Kilimanjaro, the highest mountain in Africa. This costs a good 1,000 USD.
Andreas was able to estimate, based on forum posts mainly, the cost of the shipping on the trip (post with details coming up). First, there's air transportation from Cape Town, South Africa, to Perth, Australia; second, boat from Darwin, Australia, to Dili, East Timor; third, boat from Indonesia to Malaysia and finally flight over Myanmar from Thailand to Bangladesh. The individual costs here add up to 2,700 (3,700 USD or 20.400 DKK).
The uncertainty about Myanmar

After two weeks of backpacking in Cambodia, Laos and Vietnam (end-August), we have to get our bikes and ourselves from Thailand to Bangladesh. The time plan says "Magic flight over Myanmar".

Myanmar is the former Burma. It was a british colony up until 1948 when it attained independency. A coup d'etat by military officers in 1962 led to a one-party, authoritarian military state. You come across all kinds of internal conflict in post-independency Myanmar, lethal oppression, ethnical instability and bankruptcy. Censure, limited tourism and limited import/export of goods isolate the largely buddhist country. In 2011, international pressure and the will and prolonged struggle of the people led to a new constitution and there's agreement that the future is brighter now for Myanmar.

Andreas and I have to pass either through, over or by Myanmar. Our initial research indicated some danger and, in any case, no access passing through with our bikes; there seems to be no option to go "by" with a ship so, left with a plane as the only viable option, we wrote "Magic flight over Myanmar" in our time plan.

The plane is expensive, complicated and boring — airports, paperwork, boxing bikes, etc. We should pass through Myanmar, if at all possible.

For those of you not content with my gross summary of past events in Myanmar, the references in the bottom are very interesting.
When we're in India, we can go through either Afghanistan, Pakistan or China — one of the more risky bits of the route. The safest option seems to be driving through the northernmost part of Pakistan, cross into China, through Kashgar, and into Kyrgyzstan. In China, you're required to pay for a police escort, which amounts to about 800 USD, for the minimum time we need to be in China.
Adding up the numbers
A total of 34,500 EUR, 46,800 USD, or 257.300 DKK. With three years of employment we would then need to put at least 1,000 EUR, 1,300 USD or 7.200 DKK aside every month.
Not included is camping gear, clothes and electronics like laptop, camera, cell phones, because both of us had some of this already. We didn't include the motorcycle driver's license none of us had (about 1,500 USD in Denmark). We also didn't include expenses related to all the visas we need to get a hold of. Bribing at sketchy border controls seems to be a thing and so does currency exchange rates, road taxes, etc. — all not included, so, preferably, we end up with more savings than the figure above suggests. If not, we may have to work somewhere to earn enough money to go back home. Australia may be a good place to take a break and consider the financial situation carefully. We have considered applying for sponsorships for camera and GPS equipment (about 2,000 USD in total for both), but obviously we cannot put that into the budget before it's a reality.
To put this total cost into perspective, we would, both of us, have spent about 140.000 DKK, or 25,700 USD, or 18,800 EUR living at home in Denmark for the same period of time. In that sense, without the motorcycle stuff in the budget it's not that much more expensive traveling around like this. However, the difference does become marked if we add, for the same time period, whatever we would have earned having a job.
When we get back to Denmark in 2017 we will have no savings left.
● ● ●