The Baltics in four days
"When a some point your ignition fails … you should know that there is a bearing in you final drive which will give up after about 800.000 km … Well, it turns out that the gear box on an '85 has differently angled gears than on the '81, you have 15 degrees, I have 17.5." Peter, who we met at the campground in Pärnu in Estonia was full of tips and tricks about Anders' bike. He had the same model himself – though four years older – which he had more or less ridden from his home in Australia to the Baltics, with the help of a couple of shipping containers on the way. For the first time in many days, we had arrived at a campground early enough to actually meet other campers.
After our slightly forced arrival through Poland, we took it a little slower through Lithuania. Not that we didn't use our days to the fullest (or even a bit more than that), we just rode less and did other stuff. The morning after our visit at Renata's place, we navigated to the old town of Vilnius through the cobblestone roads. It was a big challenge to navigate, keep and eye on traffic, *and* look at all the incredibly pretty girls which Lithuania turns out to be chock full of. In the end we succeeded against all odds and spent af couple of hours to look at the beautiful old buildings and eat a traditional potato pancake lunch.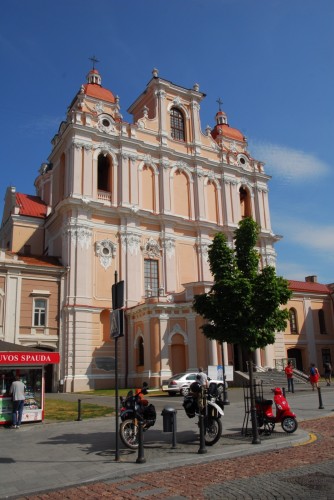 Optimistically, we had decided to reach Klaipeda on the coast on the Baltic Sea that day, so we hit the freeway to Kaunas and smaller roads from there along the border to Kaliningrad. We had the first gravel roads of the trip – yay – and shortly aften the first serious rain storm since Denmark. We quickly donned our rain gear and continued on our way, and it was really not that bad. Our gear was good at keeping us dry and warm. However, the rain combined with another missing bridge slowed us down quite a bit, and we arrived at the campground around 10 pm. And then we could cook dinner.
The campground, which at first was located in a strange far-away place, turned out to be the kite-surfing Mecca of Lithuania. When we got up in the morning, at least 20 kites were in the water. The site is just on the bank of a very shallow bay protected by a narrow strip of land, so it looked like a beginner friendly place. A brand new container city had been build, sponsored by Tuborg, complete with café/bar/grill, lots og bean bag chairs, a surf shop, and so on. We didn't have time to hang around and play surfers, so we pressed on.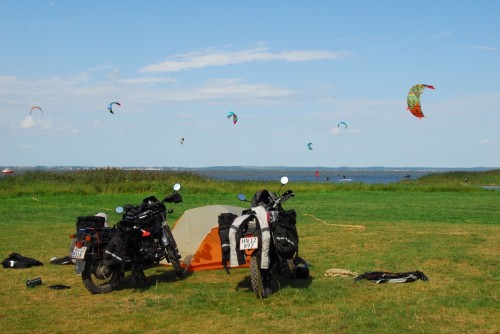 I tightened Amelia's chain and after a short stop in Klaipeda (which was extended by 1.5 hours due to Anders' bike shaking its instrument panel apart), we set our sights at Riga, the capital of Latvia. The plan we to make it half way and camp there. When we arrived, we realized that the campsite shown on our map did not exist. We asked around, but nobody spoke English and even if I think they understood what we were asking, they were of no help. In any case, at the late hour of 9.30 pm, we decided to just go all the way to Riga.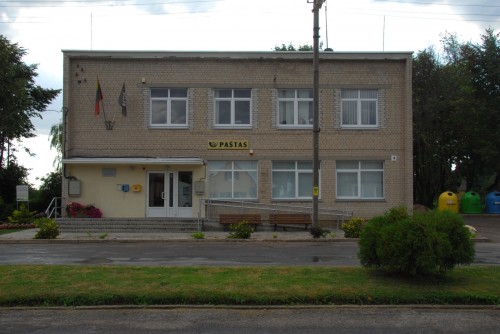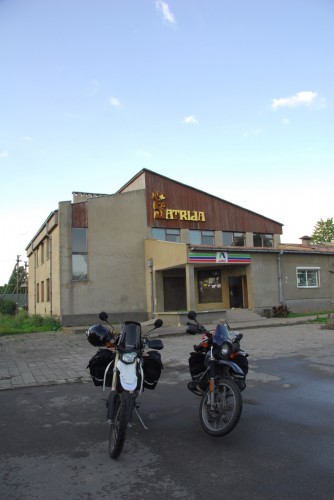 Here we arrived on a non-fictional campground at 11 and cooked our latest dinner so far around midnight. Next morning we visited the very nice old town of Riga, including the very interesting occupation museum.
The Baltic states really drew the short straw in world history: Created in 1919 in the wake ogf WW1, but quickly invaded by Russia in the late thirties, where horrible mass executions and deportations took place, "freed" (some people thought, how could it get any worse?) by Nazi Germany in 1941, which was a least as bad, and then largely forgotten by the western world in 1945, where the Soviet Union was allowed to roll over them once again, with all the Gulag-arrests and general repression that comes with that. What a long and depressing sentence. Fortunately, these days things are better, but it is no wonder that people here look worried towards Ukraine.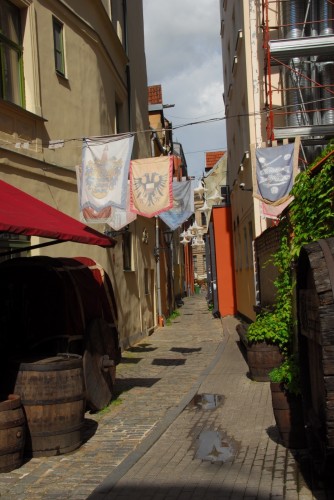 From Riga we drove to Pärnu, halfway to Tallinn in Estonia. This is where we met Tanya and Peter from Australia, a couple in their 50s who are going around Europe on their motorcycles, after tackling Malaysia and Singapore. How long are they on the road for? Who knows. But they have offered to host us when we get to Brisbane.
Yesterday we did the last stretch to Tallinn, the end of the Baltics for us. It is an amazingly beautiful and well-preserved middle age town, and among many other things we saw the place the Danish flag fell down from the heavens in 1219. The Danish flag, Dannebrog, is the oldest national flag in the world. Legend has it that it appeared from the sky during a battle in Estonia in 1219, after which our luck turned and we won the battle. Tallinn actually means "danishtown." We ruled there for a century and a half from year 1200 and the Danish history of the city is evident everywhere.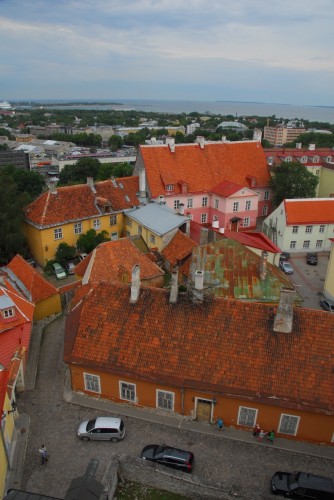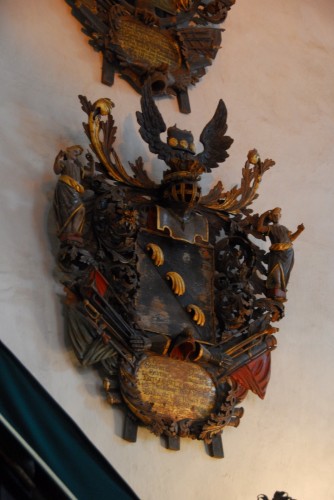 In the afternoon we visited the KGB-museum in Hotel Viru, which was built in 1972 for western tourists. Thus, it was equipped with lots of microphones to listen to all the western "spies." KGB left the hotel in a great rush in 1991 and left one of their rooms nearly intact. 23rd story on the still-functioning hotel has now been turned into a museum, which can be seen on an enthusiastically guided tour. It was supposed to take an hour, but it took two, because the guide had so many stories to tell. It was great.
Later, we found a ferry to Helsinki, where we spent the night. We have decided not to spend any time in the city, since it is easy to visit another time, so today we're going to Savonlinna, where there is a big castle. Riding into Helsinki at dusk was very much like driving into Copenhagen, and it gave me a strange sense of home. Even though we're not yet halfway through the trip, I think we have put the most foreign places behind us. Now the great forests and wildernesses await in a couple of days.
● ● ●