How long must we wait in Aswan?
[This post was written yesterday, when we were still in Aswan, but was never put online, due to a lack of internet. Meanwhile, we have made it to Abu Simbel, close to the Sudanese border.]
"I agree very much, that is a good philosophy of life," says Andreas, after he also read and article from eurowoman.dk, whihc Anne Maria, my friend from high school, sent me this morning.
We're still in Aswan and so bored that even Andreas has begun reading Eurowoman. We have been here long, far too long. We have seen what the town has to offer, and the local felucca-boat men, taxi drivers, and street hustlers seem to have learned that we are not interested in their business. We no longer need the menu at our usual restaurant. It is as if an everyday life has begun for us here. But one without much to offer.
We are having a good time, no doubt. We play cards, read, and walk. Have many long discussions. But that's not why we're in Aswan. The purpose with our stay here, was to get visas for Sudan. Lonely Planet says one should expect a 3 day wait.
The morning after our arrival at Keylany Hotel, Abdi, the very nice and helpful hotel manager, had already arranged a meeting with the fixer who could help us and our bikes escape Egypt. The meeting went smoothly – we walked through the process, handed our passport over to the Sudanese consulate for visa processing, and got the necessary paperwork done at the traffic court, proving we have no unpaid traffic tickets in Egypt.
Kamal, the fixer, thought we might get the visas as early as Thursday, only two days later. If not, we would have wait for the Egyptian weekend (Friday and Saturday) to pass, and we would have them Sunday. We had heard good things about Kamal, so we expected and planned to have our visas on Thursday and leave with the army convoy on Friday. Then we could enter Sudan on Saturday. That meant that we had two days to see what Aswan had to offer. Perfect. We visited the Nubian Museum and the Unfinished Obelisk, a granite column left in a quarry since ancient times. We also did a lot of reseach on our trip through Sudan and the following border crossing into Ethiopia. Important stuff for the next leg of our journey.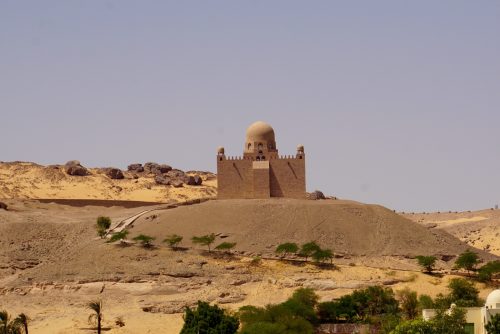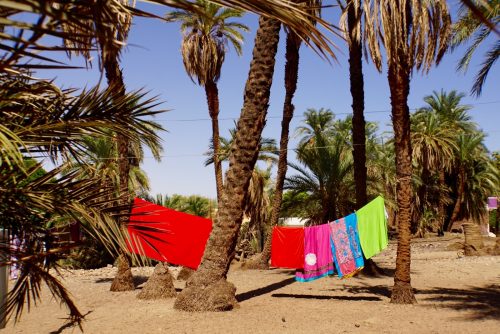 Thursday came around and we received the sad message that our visas were not done. The big boss at the consulate still had to sign them, and he was out of town. Really? A simple doodle was stopping ud from entering Sudan? We have paid Kamal good money for his help, so couldn't we expect a bit faster processing? No? Ugh. Kamal had told us already that the employees of the consulate had recently been replaced, so he no longer had any good friends there, but still. We dried our eyes and put up our best smile, as we tried to stay happy. Booked another three night at our hotel. To minimize the waiting time, we decided to leave for the border on the same day as we would have our visa, Sunday.
As we had already been all over Aswan, we did not have much to do, except playing cards at the rooftop terrace, take a walk, read and play cards on the rooftop terrace, eat pizza at "our" restaurant, read and play cards on the rooftop terrace, read and play cards on the rooftop terrace, read and play cards on the rooftop terrace. The waiting was a bit annoying.
We talked a lot about how nice is would be to get on to Sudan. We both really looked forward to seeing "the real Africa" south of Sudan, as we felt we had met the Arab culture by now. Even Abdi shared our enthusiasm for getting the visas and get going Sunday. On Saturday morning, as he served us the great breakfast consisting of pancakes, toast, and fruit, he asked us "are you ready to go to Sudan tomorrow? When do you want the breakfast?" We were very much ready. We had checked the oil on our bikes, lubricated the chains, and acquired another 4 liters of fuel in soda bottles, so we could be sure my bike would make it through the desert to Abu Simbel.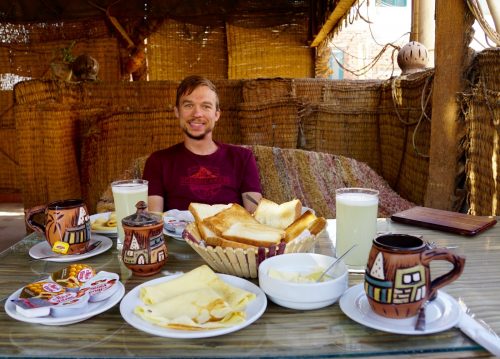 But. As we entered the lobby that afternoon, the evening receptionist broke off his prayer by looking right and saying something, then looking left and saying the same. He looked at us. Sitting on his small stool, he explained to us, that this Sunday was a public holiday in Egypt, so the consulate would be closed. That meant we could not get our visas. Huh? How did the receptionist know what we had agreed on with Abdi and Kamal? But he did, Kamal had called him with the bad news. But what kind of holiday appears out of nowhere? Apparently, this was the muslim new years – the day that the prophet Muhammed went from Medina to Mecca. How is that even a surprise to anybody local?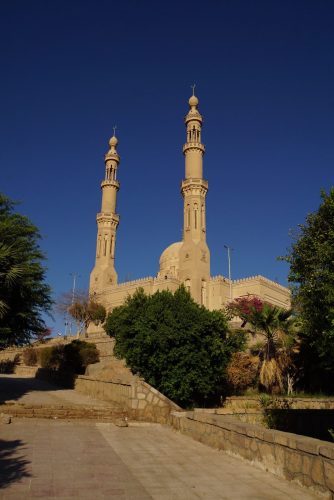 It seems as if planning ahead is a weakness for many Egyptians. We see it in the traffic, the refusal to pay taxes, the unfinished houses, and now, apparently, the knowledge of public holidays. It was quite frustrating nobody had told us until 12 hours before we were supposed to leave.
At this moment, we're sitting in our room on our beds with our iPad. The air-conditioning is set to 21 degrees. And this is where the article from Eurowoman is relevant. It is about living life and not worrying about changing things you cannot change. It reminds me that I have plenty of reasons to be happy. I'm in Egypt, traveling with Andreas, who I'm crazy about. We get enough to eat every day, sleep great in soft beds, in a temperature we can adjust. Maybe the visa did not come after 3 days as I had hoped, but so what? Instead we have had a lot of time to think about life, its challenges and its positive sides. We have no reason to complain.
But with that said, we are SO ready to leave for Sudan tomorrow!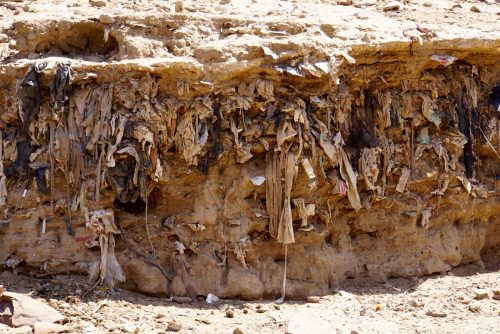 Trash of generations. Or at least a lot of trash.
● ● ●