The Alps
In Weggis in Switzerland, we had a warm welcome by Daphne and Fredy. Fredy is a photographer and very well-traveled. He has an amazing number of stories, which he can't stop himself from telling. I am the third generation in my family to know him. In 1974, he and two other guys knocked the door of my grandparents' farmhouse, asking if they could stay the night on their fields close to the fjord in Hestbæk. Of course they could. They ended up staying for 6 weeks, helping with the harvest and daily duties on the farm.
Andreas and I were put in their guest room with a wonderful view of the Vierwaldstättersee and our own bathroom. All of us then had an amazing three-course dinner on their terrace, where the view is even better.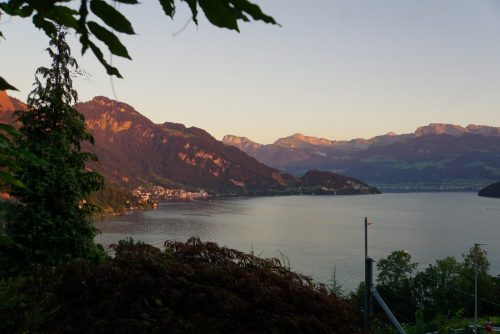 The view from the terrace.
We barely got out of bed Saturday morning before Fredy told us that Andreas' motorcycle was leaking. We went down to look at it and determined a leak from the connection between a rubber hose and the radiator. The two males started diagnosing the problem, wondering if it was an easy fix or it would take a mechanic. They decided to move the bike to a clean spot to be able to judge the severity of the leak later.
Around lunchtime we took a cable car up to Rigi, a peak close to Fredy's house, which we could walk home from. We spent three hours hiking through the most amazing nature, accompanyed by the sound of bells on the cows, the sight of Swiss wooden houses with colorful flowers in their flower boxes, and the smell of newly cut grass in the 30 degree heat. Fantastic. We ended the hike with a refreshing dive in the Vierwaldstättersee.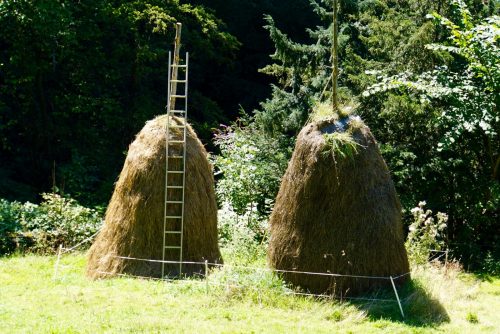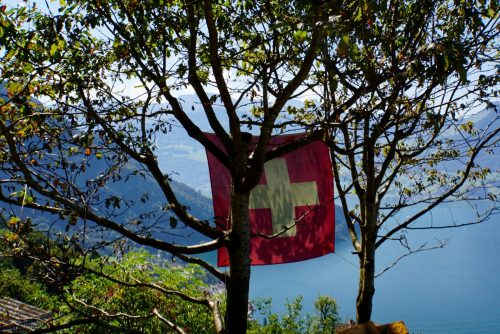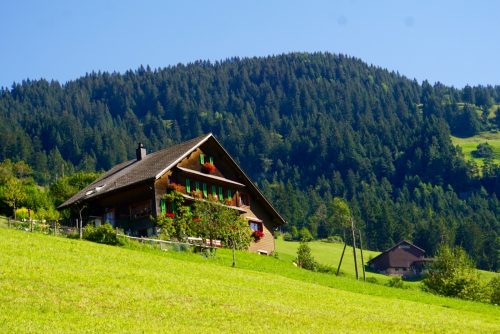 On Sunday, Fredy and Andreas decided to replace a hose clamp to fix the leak. Fortunately, Fredy had a hose clamp of the right size. They decided that we would stop by a mechanic Monday morning to perhaps replace the screw hose clamp with a proper spring loaded clamp.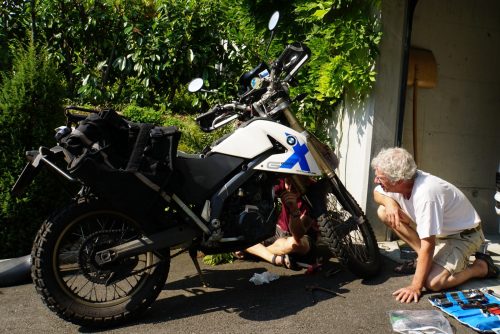 We replace a hose clamp on the radiator.
It is Monday. It is raining. We're leaving paradise… After breakfast we we to a bike shop, and then another – both had closed on Mondays… We went back to Fredy's, packed the bikes and puttered into the rainy Alps. I must admit, that despite the rain and cold, is was indescribably beautiful! The clouds were low, so low that some of the mountain tops were poking right through them. The rain made it slow going, and everybody were careful on the roads. We took several breaks when the rains was pouring down at its worst. We reached the campsite, Camping Cul Zernez and put up our tent. We left our motorcycle gear to dry in the restrooms. The dinner was instant pasta bolognese, just add water. It tasted fine. It was a wet day.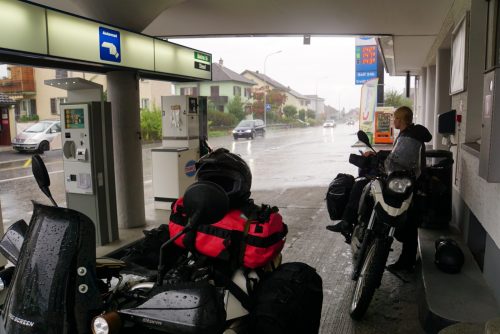 Rain, rain, rain.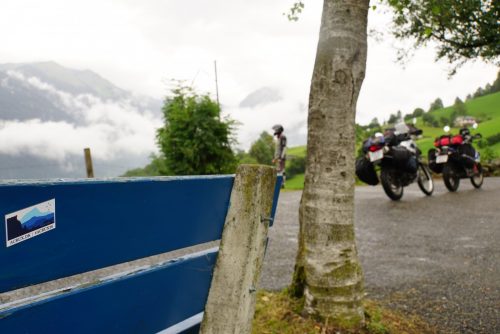 We exit the tent, I cook oatmeal and pack, while Andreas changes the brake pads on Amelia's rear wheel. Everything is great and we manage to dry out the soaked tent enough to be able to pack it. We ride trough the Alps to Italy. The roads through the passes were full of motorcycles, many, many more than cars. We must have waved a more than a hundred as we met them. We arrive at a tiny Italian campsite. So small we can't believe it's commercially viable. It is far from full, there is plenty of room for our tent. Surprisingly, this tiny and slightly sad site has the most beautiful restrooms!!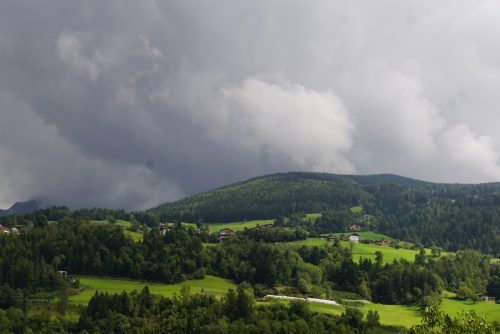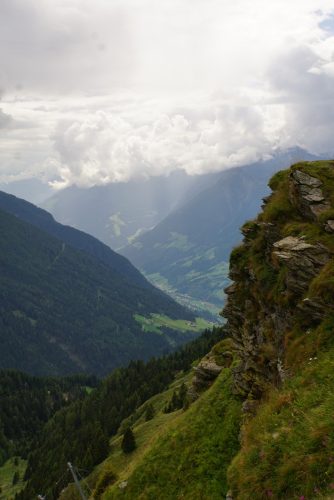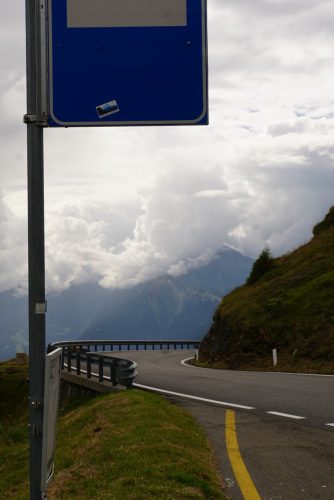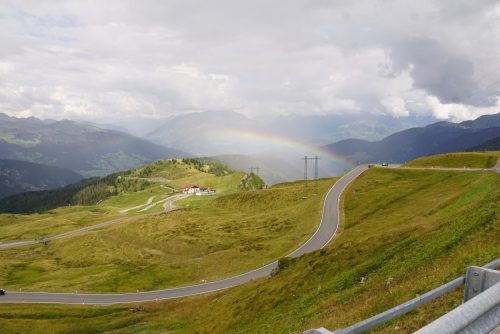 Now were getting ready to go to Slovenia to see what awaits us there.
● ● ●